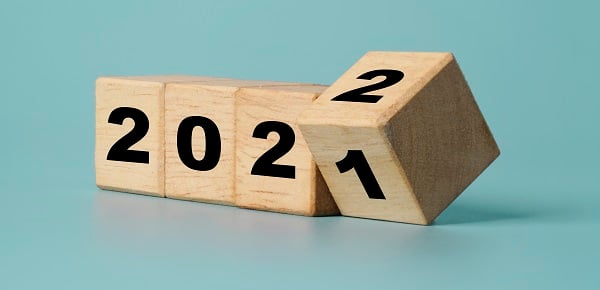 This article first appeared in the February issue of AAOS Now, the monthly news magazine of the American Academy of Orthopaedic Surgeons (AAOS).
For the AAOS Registry Program, 2021 was a year of significant expansion and noteworthy achievements, as it continued its growth trajectory and introduced several new visual and analytical enhancements.
"AAOS registries have grown and matured considerably over the past four years," said AAOS Registry Oversight Committee Chair William J. Maloney, MD, FAAOS. "With more than 2.5 million procedures collected from five registries, the AAOS Registry Program has made large strides toward its mission to improve orthopaedic care through the collection, analysis, and reporting of actionable data."

American Joint Replacement Registry
The American Joint Replacement Registry (AJRR), having been reintegrated into AAOS in 2017, is the cornerstone of the Registry Program. It has grown to be the world's largest registry of hip and knee replacement data by number of annual procedures submitted.
In 2021, analyses from the AJRR data appeared in publications featured in The Journal of Arthroplasty, Clinical Orthopaedics and Related Research, and the Journal of the AAOS ®. Poster and podium presentations using AJRR data were shared at conferences around the world. These meetings included the AAOS 2021 Annual Meeting, the North Carolina Orthopaedic Association 2021 Annual Meeting, the American Association of Hip and Knee Surgeons (AAHKS) 2021 Annual Meeting, and the 10th International Congress of Arthroplasty Registries.
One manuscript of note, "Is American Joint Replacement Registry Data Representative of National Data? A Comparative Analysis," compared AJRR data to data in the National (Nationwide) Inpatient Sample (NIS) and the results confirmed that AJRR data is representative of national trends and may be generalized to the larger US population. Further, the proportional differences between AJRR and the nationwide experience based on the NIS were either minimal or negligible based on Cohen's d assessment, suggesting generalizability of AJRR to the larger U.S. population.
AJRR Annual Reports were also released in 2021. The AJRR 2020 Annual Report Supplement, launched during the AAOS 2021 Annual Meeting this past September in San Diego, included reporting of device-specific cumulative percent revision estimates for the second consecutive year, drawn from the registry's linkage with Centers for Medicare & Medicaid Services (CMS) claims data. The AJRR 2021 Annual Report, released in November at the AAHKS 2021 Annual Meeting, showed an overall cumulative procedural volume growth of 18.3 percent over the previous year. It comprised findings from 2,244,587 hip and knee arthroplasty procedures performed between 2012 and 2020.
"A considerable amount of content analyzing AJRR data saw release in 2021," said AJRR Steering Committee Chair Bryan D. Springer, MD, FAAOS. "The pandemic has strained resources for healthcare sites, but the volume of AJRR publications last year speaks to the importance of the registry and its mission."

Shoulder & Elbow Registry
The AAOS Shoulder & Elbow Registry (SER) launched in 2018, and dissemination of its growing body of data continues. SER posters and papers were presented at the AAOS 2021 Annual Meeting, and the SER 2020 Annual Report was also published during the meeting, the second report for SER.
Campbell Clinic Orthopaedics developed and generously donated to SER the Shoulder Arthroplasty Predictive (SHARP) Model, which became accessible to SER participant sites and surgeons through the AAOS RegistryInsights® platform last year. The SHARP Model helps surgeons predict postoperative shoulder arthroplasty outcomes based on individual patient health data and can guide preoperative patient conversations around surgical expectations.
"2021 saw a significant increase in the amount of data analyzed for research and reports in SER continue to grow and be applied in exciting ways," said SER Steering Committee Chair Gerald R. Williams Jr, MD, FAAOS. "As more surgeons contribute to the Registry, the SER Annual Report and dashboards will continue to improve and paint a better picture of shoulder and elbow surgeries in the United States."

Musculoskeletal Tumor Registry
Participation in the AAOS Musculoskeletal Tumor Registry (MsTR), the AAOS Registry Program's first diagnosis-based registry, increased in 2021, and its process for data entry was streamlined. AAOS created a conditional branching logic format to facilitate data entry and minimize clinician burden. In January 2021, AAOS published a video on the MsTR webpage providing a walkthrough of the new conditional forms prebuilt through Epic via its SmartForms tool.
MsTR also published its inaugural Annual Report Preview in 2021. The preview provides an overview of the Registry's history, sarcoma module, data collection, and examples of what may be included in the MsTR dashboards when they launch.
"There are many exciting developments on the horizon for MsTR," said MsTR Steering Committee Chair Benjamin J. Miller, MD, MS, FAAOS. "Surgeon and institution-level dashboards for the sarcoma and metastatic disease of bone modules are a strategic priority for AAOS and are scheduled to be developed and released in 2022. We are also continuing work on the spine tumor module in collaboration with the American Spine Registry."

American Spine Registry
The American Spine Registry (ASR) is a collaborative effort between the American Association of Neurological Surgeons (AANS) and AAOS. In July 2021, the Joint Commission launched the Advanced Certification in Spine Surgery. Sites applying for the certification are required to be ASR participants and collect data on four standardized performance measures through the ASR.
The Registry also expanded its industry sponsors with the addition of Medtronic. ASR's supporters share the ASR goal of improving spinal care through data. Medtronic joins NuVasive as an important early supporter of the Registry.
"ASR made great progress in 2021," said ASR Executive Committee Cochair Steven D. Glassman, MD, FAAOS. "In addition to expanding its participation from many new sites around the country, The Joint Commission's ACSS requirement offers ASR sites a new participant benefit and a way to demonstrate the high-quality care they deliver."

Fracture & Trauma Registry
In 2020, the AAOS Fracture & Trauma Registry (FTR) was announced as the fifth AAOS Registry, and a partnership was formed between Orthopaedic Trauma Association (OTA) and FTR in 2021. The FTR platform on AAOS RegistryInsights® has launched in preparation for open enrollment, which will be available in March 2022.
FTR will collect data on ankle fracture, distal femur fracture, distal radius fracture, hip fracture, and proximal humerus fracture. "The Registry's five modules cover multiple specialties and national benchmarks on FTR measures will help many surgeons improve fracture patient care," said FTR Steering Committee Chair Michael J. Gardner, MD, FAAOS.


Registry Analytics Institute®
The AAOS Registry Analytics Institute ® (RAI) is mechanism by which registry data analyses are made available to clinical investigators and authors. RAI periodically issues calls for proposals which are evaluated and scored for feasibility and scientific merit. The top proposals are accepted for analysis. A total of 39 applications were submitted in 2021, of which, 12 were accepted.
RAI accepts applications during three cycles annually. For 2022, Cycle 1 is open from January 31 through March 14, Cycle 2 is open from June 6 to July 18, and Cycle 3 is open from October 3 to November 14. More information can be found on the RAI website.
The AAOS Registry Program also engages in the AJRR-C, a collaboration between Mayo Clinic and AJRR to improve arthroplasty care. The AJRR-C was established by the NIAMS P-30 Center Grant to stimulate and facilitate high quality total joint arthroplasty research across the United States, support the development of "registry science" in the United States, and improve the capability, rigor, and data comparability for the whole field.
"It has been more than four years since AAOS made its commitment to create a family of registries, and the expansion and enhancements to the Registry Program have not slowed since inception," said AAOS President Daniel K. Guy, MD, FAAOS. "Registries are an essential benefit that we offer to our members, and ultimately, our patients will profit most from the insights this program provides. I look forward to seeing the positive impact the Registry Program has on the profession in the years to come."
Be sure to leave a comment in the form below!