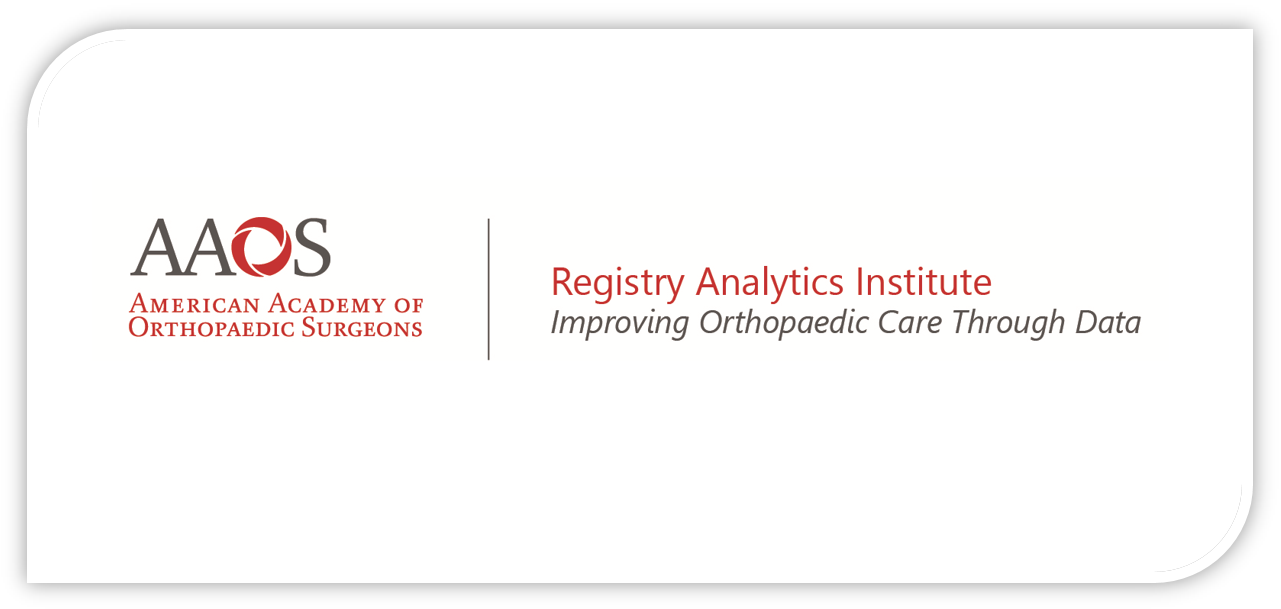 The American Academy of Orthopaedic Surgeons (AAOS) Registry Program collects data within multiple orthopaedic anatomic registries, thereby creating the exciting potential for analytic insights that improve patient outcomes. In February 2019, AAOS launched the AAOS Registry Analytics Institute and that potential is now an attainable reality for many clinicians! The Institute gives clinicians and clinician-scientists the opportunity to submit proposals for analytic insights that are contained within its various Registries. For example, the American Joint Replacement Registry (AJRR) houses more than 1.5 million hip and knee procedures that can inform quality improvement. The goal of the Institute is to provide a resource to the scientific community to further understand and improve orthopaedic and musculoskeletal care by making information available to examine outcomes related to orthopaedic treatment.
AJRR is the first Registry Program participant to accept applications from interested clinicians. The AJRR Research Projects Subcommittee (RPS) is overseeing the application process, as the information initially available is specifically related to AJRR. "Collecting clinically relevant data in a timely fashion and applying that data to improve outcomes for patients represents one of the most important goals of the AAOS Registry Analytics Institute. It is the arm of the Academy that will leverage Registry data to help identify outcomes of surgical interventions," said Richard Illgen, MD, AJRR RPS Chair.
Eligibility
Data requests are open to investigators who have a well-defined hypothesis or question related to orthopaedics or musculoskeletal care. For this initiative, "investigators" do not include representatives from industry, federal agencies, commercial entities, insurance companies, administrative databases, or hospital consortia.
The structure of the application process utilizes members of the RPS to provide oversight and constructive peer review of external request applications. Data analyses will be completed by AAOS Registry Analytics team members for all approved proposals.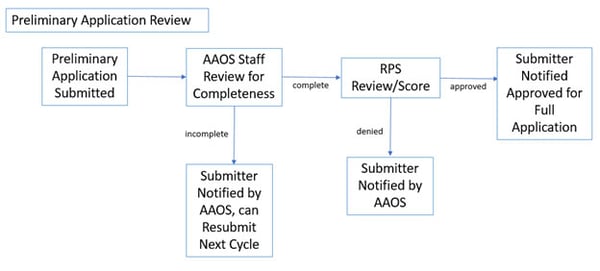 Figure 1 - The Preliminary Application Summary Flow Chart is shown above. Preliminary applications will be reviewed by the RPS.
Selection Process
The application process consists of two phases: preliminary review (Figure 1), and full application review (Figure 2). As applications make their way through the review funnel, they will be evaluated by AAOS Registry Analytics staff, the AJRR Research Projects Subcommittee, and the AJRR Data Committee consisting of surgeon and industry leaders, as well as patient representatives.

Figure 2 - The Full Application Summary Flow Chart is shown above. Full applications will be reviewed by the full Data Committee, RPS, and content experts (as appropriate).
How to Apply
The AAOS Registry Analytics Institute is now accepting applications related to proposals utilizing AJRR information. Investigators with a well-defined hypothesis related to orthopaedics or musculoskeletal care are encouraged to apply. There will be three application cycles opened annually. The preliminary application deadline for the first cycle of this year is April 5, 2019, the second cycle is August 5, 2019, and the third cycle is December 2, 2019. For the application and more detailed information, click here.
Working with the AAOS Analytics Team
Applicants whose projects are approved will work directly with the AAOS Registry Analytics team to develop an analysis plan and timeline. All data analysis will be completed by AAOS and reviewed by the project team. If approved projects require additional data collection, beyond the original request, a more in-depth project plan will be required and developed by the AAOS Analytics team. At the completion of the project, investigators will receive a completed, de-identified analysis.
The Registry Program collects data related to procedures and post-operative care. A list of full data elements from AJRR can be found here.
For information about the AAOS RegistryInsights platform, speak with a Registry Engagement Associate at (847) 292-0530 or Request A Demo today!
Be sure to leave a comment in the form below!