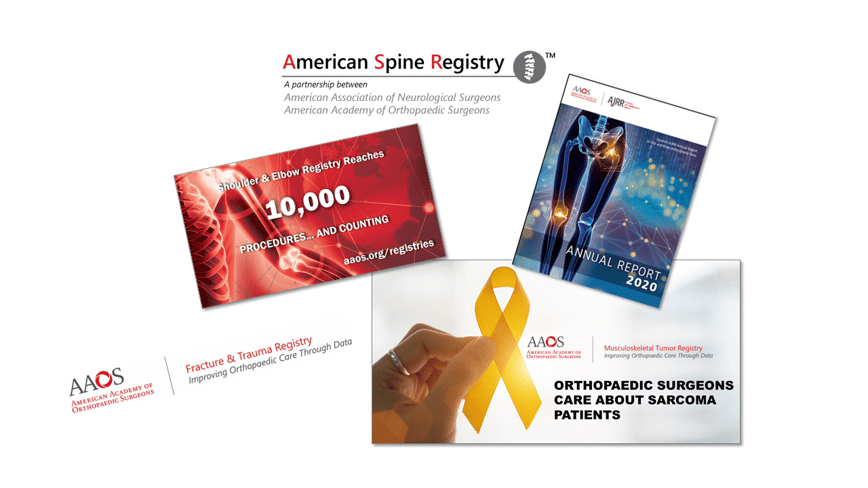 This article first appeared in the January issue of AAOS Now, the monthly news magazine of the American Academy of Orthopaedic Surgeons (AAOS).
2020 was a year like no other, with the healthcare system completely upended along with the rest of society by COVID-19. But for the AAOS Registry Program, it was nonetheless a year of growth and accomplishment.
"When we started on this journey with the commitment to develop and create a family of registries across the spectrum of orthopaedic specialties, we planned on it taking five years to achieve our goals," said William J. Maloney, MD, FAAOS, chair of the AAOS Registry Oversight Committee. "We are three years into the program, and we're ahead of schedule in the number of registries, the number of anatomical areas and procedures covered, and the data being submitted by participating sites. This is a great testament to the orthopaedic surgeons and site administrators who are driven to make the quality-improvement registries succeed."
AJRR
The progress and achievements of the AAOS cornerstone registry, the
American Joint Replacement Registry (AJRR)
, can be viewed in the
2020 Annual Report
issued in November 2020, along with the supplement to the 2019 report published in April 2020. The 2020 report provides data for 1,897,050 primary and revision hip and knee arthroplasty procedures performed between 2012 and 2019, but in June 2020 the AJRR hit a major milestone when it reported its two millionth procedure. The 2019 supplement was the first AAOS Registry report to include device-specific survivorship curves.
"The COVID-19 pandemic has led to unprecedented times in the United States and the world. Yet the AJRR and the development of the AAOS Family of Registries continue to see growth and expansion," said Bryan D. Springer, MD, FAAOS, chair of the AJRR Steering Committee. "This success is a tribute to the nation's understanding of the fundamental importance of national registries but also to the value that our registries bring to surgeons, hospitals/surgery centers, and other stakeholders every day. Our procedural growth of over 2.2 million and counting is rivaled by continued growth of data reuse opportunities for participation in multiple public and private value-based care incentive programs."
AJRR is also a major generator of research based on data in the Registry. In 2020, papers and posters were presented at meetings including the AAOS Annual Meeting and those of the American Association of Hip and Knee Surgeons (AAHKS), The Hip Society, The Knee Society, and the International Society of Arthroplasty Registries.
SER
The AAOS
Shoulder & Elbow Registry (SER)
, which launched in 2018, also reached many milestones in 2020. SER collected more than 10,000 shoulder arthroplasty, elbow arthroplasty, and rotator cuff repair procedures by July 2020 and reached 100 participating sites in September 2020; in April 2020, it published its first
Annual Report
. The American Shoulder and Elbow Surgeons 2020 Annual Meeting in October 2020 marked the first time SER data were presented at a conference, with an eposter by Stephen F. Brockmeier, MD, FAAOS, et al., titled "Trends in the Use of Superior Capsular Reconstruction in the United States Using the AAOS Shoulder and Elbow Registry."
Personalized SER institution and surgeon dashboards were added to RegistryInsights® last year; they provide a look into measures such as the top ICD-10 diagnosis and procedure codes, total number of procedures by state, comorbidities present on readmission, and Patient-reported Outcomes Measurement Information System-10 Global and Veterans Rand 12-item Health Survey mean scores. The new dashboards allow for a more detailed analysis of patient well-being before, during, and after surgery.
In September 2020, the SER received the Shoulder Arthroplasty Predictive (SHARP) Model, a tool designed to help surgeons predict postoperative shoulder arthroplasty outcomes. Provided by Campbell Clinic Orthopaedics, a leader in musculoskeletal care and sports medicine, the SHARP model helps guide preoperative, evidence-based conversations between surgeons and patients and sets appropriate expectations around surgical outcomes based on a patient's individual health.
New Fracture & Trauma Registry
In September 2020, the AAOS Family of Registries welcomed its newest addition with the announcement that the
Fracture & Trauma Registry (FTR)
will launch with full participant enrollment this spring following limited invitations to key sites in late 2020. The new registry has the endorsement of the Orthopaedic Trauma Association.
A distinctive aspect of the new registry is that it initially will be composed of five diagnosis-based modules processing case data on fractures of the hip, distal radius, ankle, distal femur, and proximal humerus. Proximal humerus fracture is being developed in collaboration with the SER and hip fracture in collaboration with AJRR.
The FTR marks the first AAOS registry built on a synergistic approach where collaborative modules will be available across the RegistryInsights® platform, offering expanded crossover benefits to AAOS Registry Program participants.
"Collecting and utilizing registry data have been pivotal for joint replacement, are on track for spine surgery, and will soon be a best-practices component of fracture care," said Michael J. Gardner, MD, FAAOS, chair of the FTR Steering Committee. "Participation in FTR will demonstrate a trauma surgeon's commitment to benchmarking and providing high-quality care."
New Registries for Spine and Tumor
ASR
For spine procedures, the registry initiative broke new ground in January 2020 with the launch of the
American Spine Registry (ASR)
, a collaboration between the American Association of Neurological Surgeons (AANS) and AAOS.
"The ASR is a collaborative effort between two surgical specialty societies, which both represent spine surgeons," said Steven D. Glassman, MD, FAAOS, cochair of the ASR Executive Committee (along with Anthony L. Asher, MD, FAANS, FACS, of AANS). "It is significant that these two organizations chose to embrace the greater potential of what we could accomplish together. Having a truly collaborative registry between the neurosurgeons and orthopaedic surgeons is a great achievement, and one I'm glad to be part of. Importantly, the spine surgery profession is embracing the resource as evident in the number of sites and sponsors who have committed to ASR this past year."
Subsequent to its launch, ASR-related news included the Advanced Certification in Spine Surgery in partnership with The Joint Commission, industry support from Medtronic and NuVasive, and the October 2020 launch of the ASR dashboard in RegistryInsights®.
MsTR
In April 2020, the
Musculoskeletal Tumor Registry (MsTR)
progressed from a successful pilot phase to open participation and quickly attracted interest and users, with participation doubling in the first six months of operation.
"Sarcoma is a rare, but important, cancer with challenging and variable treatment options," said Benjamin J. Miller, MD, MS, FAAOS, chair of the MsTR Steering Committee. "MsTR will allow the community of orthopaedic oncologists to form data-driven conclusions that will change practice for the better. This registry will provide feedback to contributing providers and centers through dashboards, with comparisons to national and personal quality and patient safety benchmarks. With the addition of the spine tumor and metastatic disease of bone modules, the MsTR offers an unparalleled opportunity to improve the quality of care for patients afflicted with musculoskeletal tumors."


All Registries

The AAOS Registry Program, as a whole, made news with a variety of accomplishments and milestones in 2020. Here is a rundown of some noteworthy markers:
A new registries section launched on the AAOS website in January 2020.
RegistryInsights® self-service features were released in February 2020.
COVID-19 data collection was initiated in June 2020.
The OrthoForum recognized AAOS as its official registry program in July 2020.
Registries partnered with the Centers for Medicare & Medicaid Services for the Bundled Payments for Care Improvement Advanced in October 2020.
The American Association of Orthopaedic Executives (AAOE) and AAOS collaborated to support orthopaedic practice executives with submitting their data to AAOS registries in a streamlined fashion to reuse their AAOE Empower data in November 2020.
A comprehensive list of current Registry data reuse opportunities is continually updated and available here.
Registry Analytics Institute®
Three studies using
Registry Analytics Institute®
data analyses were presented at the AAHKS Annual Meeting in November 2020:
"Migration Patterns for Revision Total Knee Arthroplasty in the United States as Reported in AJRR" by Kevin A. Lawson, MD, et al.
"Joint Replacement Registry to Predict Total Joint Arthroplasty Patient Outcomes at One Year" by Chancellor F. Gray, MD, FAAOS, et al.
"Cementless Fixation, Total Hip Arthroplasty, and Increased Age Are Risk Factors for Revision after Arthroplasty for Femoral Neck Fracture: Results from the American Joint Replacement Registry" by James I. Huddleston III, MD, FAAOS, et al.
"The Academy made a commitment to create a registry portfolio across orthopaedic specialty areas so that our surgeons and those involved in treating patients can benefit from the collective wisdom these data represent," said AAOS President Joseph A. Bosco III, MD, FAAOS. "When I look back at the past year alone, especially during a pandemic year, I'm amazed at the progress we've made. We have new registries, and more importantly, we have made great headway in utilizing the data for papers and published reports. After all, it's the disseminating of knowledge that will drive improvements in care and make our registries successful."


Terry Stanton is the senior medical writer for AAOS Now. He can be reached at tstanton@aaos.org.
For more information about AAOS Registry Program participation, speak with an AAOS Registry Engagement Associate at (847) 292-0530 or click
here
.
Be sure to leave a comment in the form below!