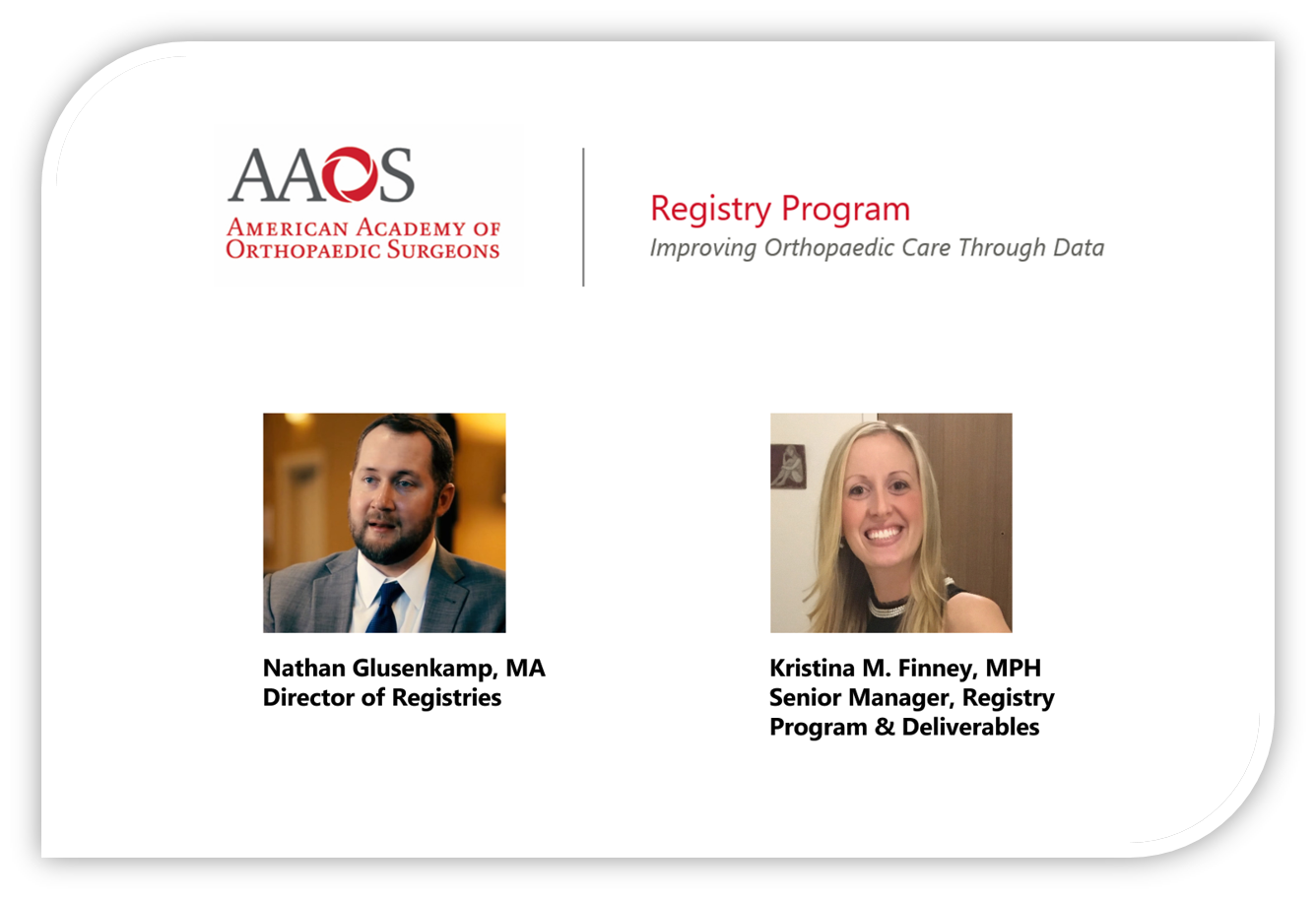 Many of our readers and American Joint Replacement Registry (AJRR) participants have asked for more information about the American Academy of Orthopaedic Surgeons (AAOS) Registry Program to better understand future options available to their organizations. Today's blog shares information from a June 20, 2018 webinar entitled, "AAOS Registry Program: Opportunities for Engagement and Insights." Presenters Nathan Glusenkamp, MA, AAOS director of registries, and Kristina M. Finney, MPH, senior manager of AAOS Registry Program and Deliverables, shared a strategic overview of the new program, its mission/vision, the AJRR model, new anatomic program areas, and the value of registry data. Highlights from the webinar are below.
AAOS Registry Program Strategic Overview
In June of 2017, the AAOS Board of Directors approved a significant multi-year investment in the AAOS Registry Program to address a variety of musculoskeletal/anatomical areas beginning with the acquisition of AJRR that same year. In fact, AJRR was returning to its inception point, having originated within the Academy in 2009. The AAOS Registry Program investment was made to:
1) create a source of unique clinical information
2) enable performance measurement by physicians for physicians
3) provide support for novel scientific research production
4) provide scaled delivery of registry-driven quality improvement programs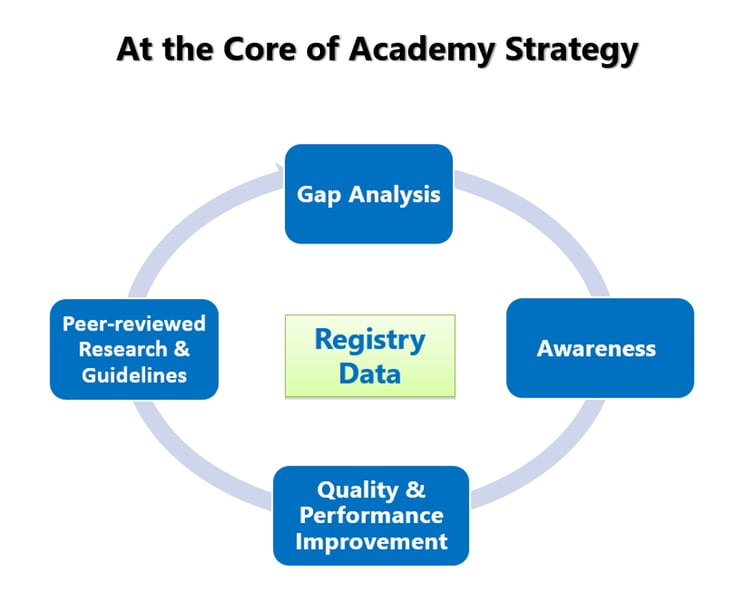 Program Mission and Vision
Like AJRR, the mission of the AAOS Registry Program is to improve orthopaedic care through the collection, analysis, and reporting of actionable data. The Program's vision, however, goes beyond hips and knees to include additional anatomic areas. Its vision is to be the National Registry for orthopaedics through comprehensive data and technology resulting in optimal patient outcomes. The registries that would comprise the AAOS Registry Program in its future-state would also be part of an even larger quality vision as indicated below.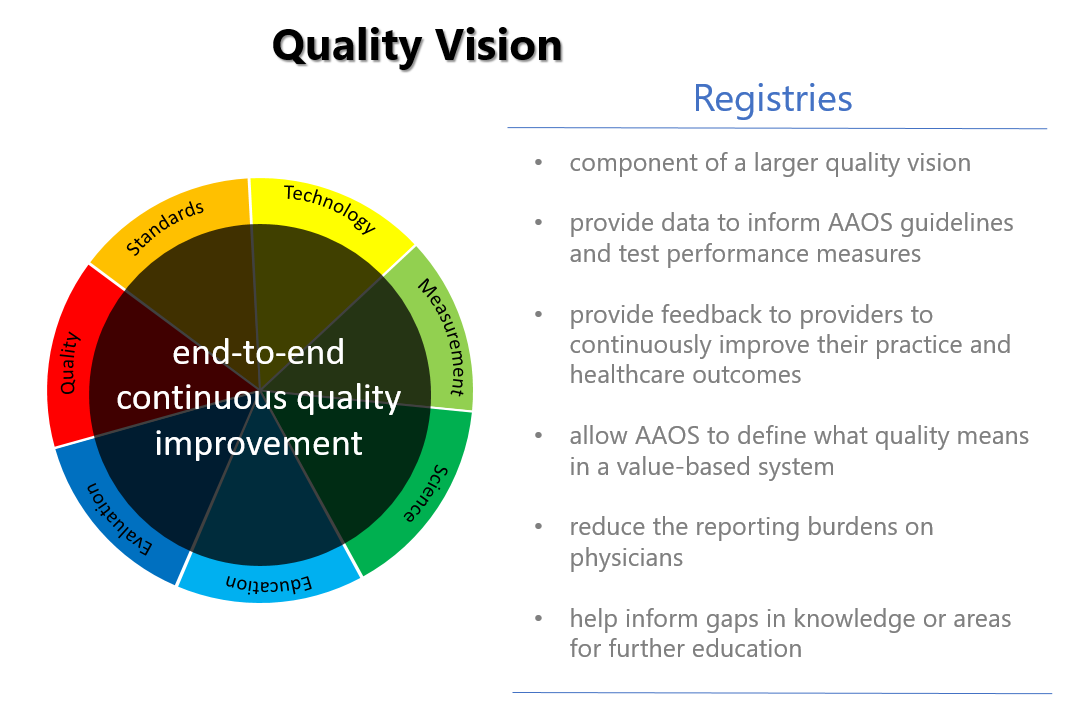 The AJRR Model
The AJRR, based on number of annual procedures, is the largest orthopaedic registry in the world. Its database houses 1.3 million procedures overall. AJRR has succeeded as a multi-stakeholder model and new participants in the AAOS Registry Program will be similarly structured. The AJRR and future registry systems will support two primary use cases. The first case provides access to data submitted and uploaded to the Registry across three levels. The second case provides the ability to administer pre- and postoperative Patient-reported Outcomes (PRO) Assessment surveys to patients.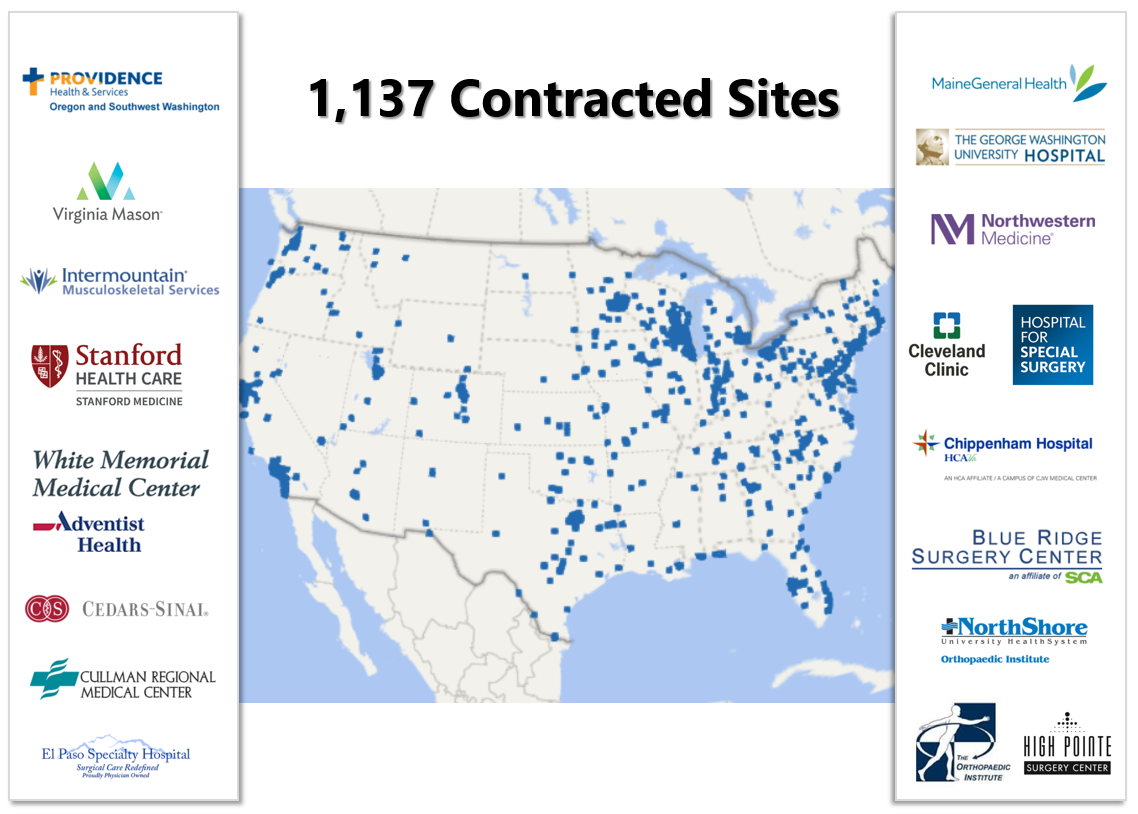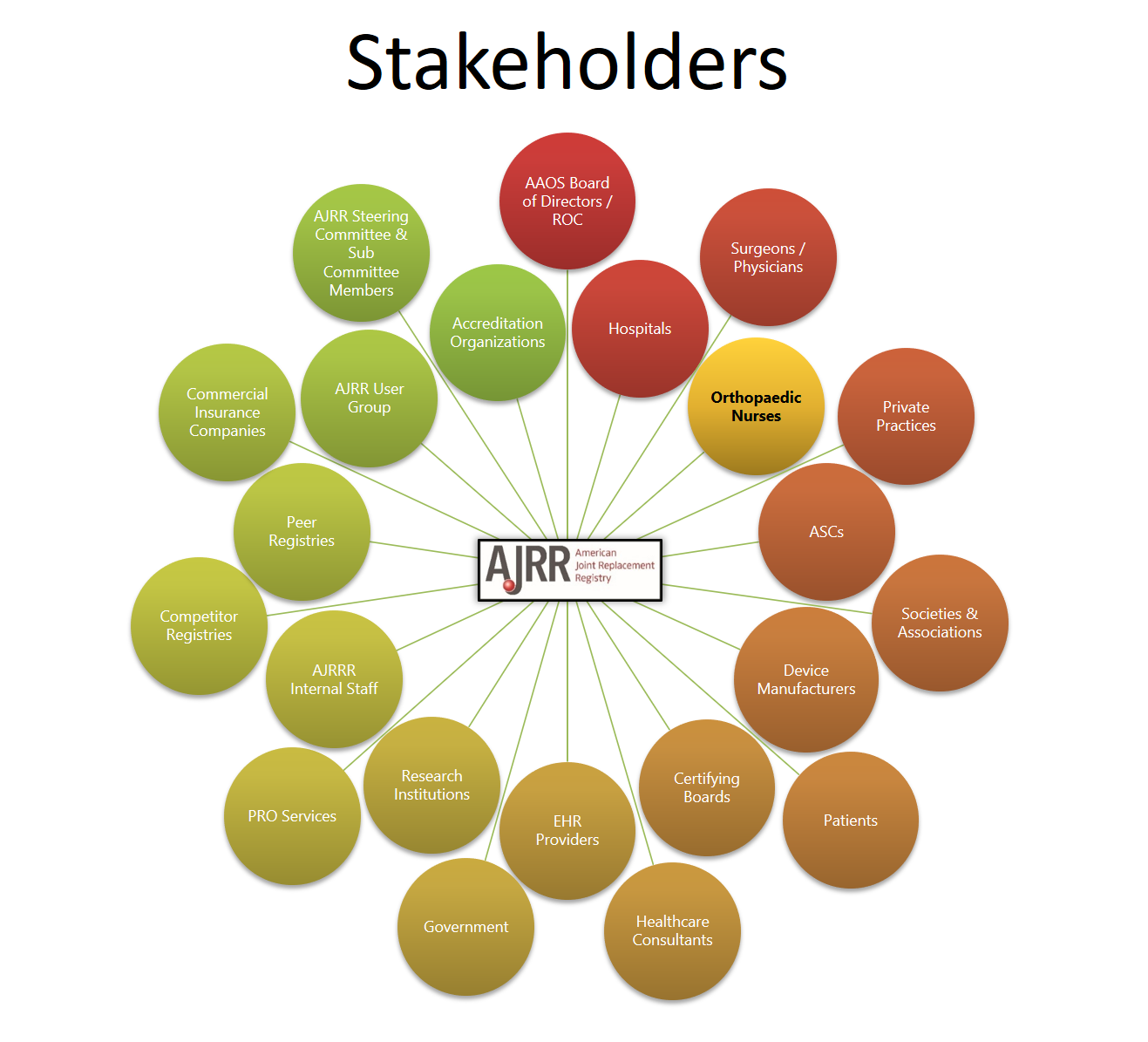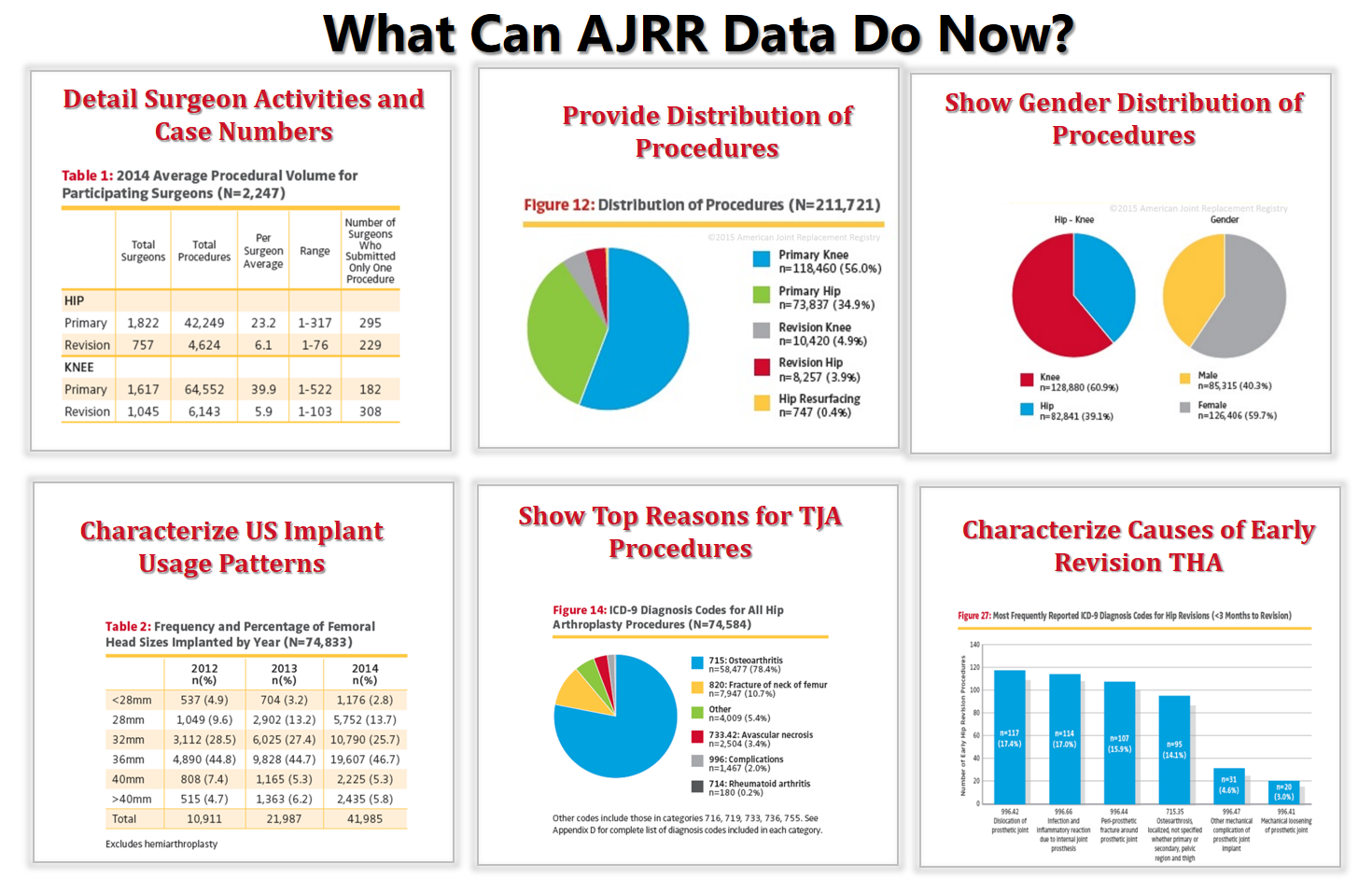 New Anatomic Program Areas
The next AAOS Registry Program participant is expected to be officially announced in the third quarter of 2018. The Shoulder & Elbow Registry will begin by collecting shoulder arthroplasty procedures and add new modules like rotator cuff repair and total elbow in the near-future. If you are interested in joining the AAOS Registry Program and its expanding anatomical procedures reporting, please contact Customer Support at AJRRsupport@aaos.org.
The Value of Registry Data
National registry data, as delivered through the AAOS Registry Program, gives value to providers on multiple fronts including:
National performance benchmarks
Access to on-demand practice specific quality reports and dashboards
Track and monitor outcomes
Reduce complications and revision rates
Increased transparency
Surveillance alerts for poorly performing implants
Support for quality initiatives
Monitor actions and improve patient care
Allow the re-use of data towards programs like the Merit-based Incentive Payment System, Maintenance of Certification, and Continuing Medical Education
To download the slide deck to the "AAOS Registry Program: Opportunities for Engagement and Insights" webinar, click here.
To download the recording, click here.
For information about the AJRR RegistryInsights™ platform, speak with a Business Development Representative at (847) 292-0530 or Request A Demo today!
Be sure to leave a comment in the form below!