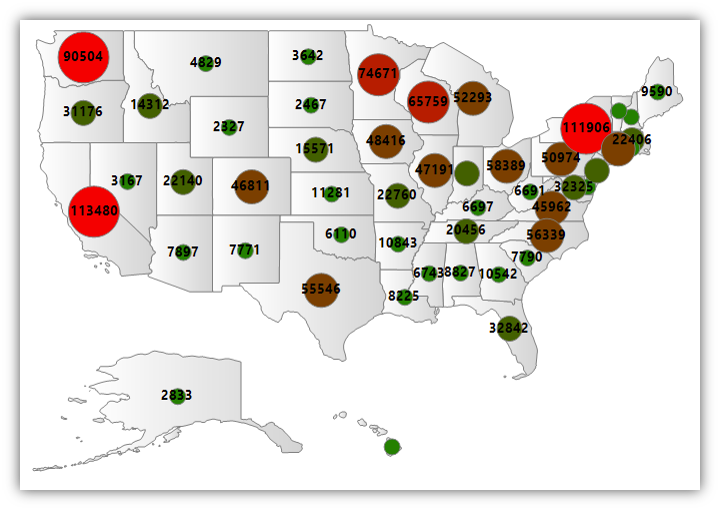 The number of hip and knee replacement procedures by state in the American Joint Replacement Registry.
David G. Lewallen, MD, Medical Director, American Joint Replacement Registry (AJRR), was a featured speaker at the University of Michigan's (UM) "Larry S. Matthews, MD, Adult Lower Extremity Joint Reconstruction Lectureship" on May 18, 2018. He shared portions of AJRR's development roadmap with his audience, including collaborative possibilities between AJRR and state-based registries.
"As a national registry, AJRR already has a strong presence among its international counterparts. At home, it has successfully collaborated with several state registries under different models. Now, as a part of the American Academy of Orthopaedic Surgeons (AAOS) Registry Program, with access to additional resources, AJRR's ability to reach out to the states has increased. We are open to exploring opportunities with state registries that share the AJRR mission to improve orthopaedic care through the collection, analysis, and reporting of actionable data," Dr. Lewallen stated.
This week's blog shares two examples of AJRR and state registry cooperation. We conclude with a more comprehensive summary of other current AJRR opportunities mentioned in Dr. Lewallen's UM presentation.
Michigan Arthroplasty Registry Collaborative Quality Initiative (MARCQI)
MARCQI is one of 18 statewide collaborative quality initiatives (CQIs) encompassing major medical specialties and focus areas. MARCQI funding is provided by Blue Cross Blue Shield of Michigan, but the insurer does not receive patient- or provider-level data from the CQIs. MARCQI has an ongoing partnership with AAOS that benefits both organizations as well as AJRR. The Michigan registry helps provide access to national benchmarking capabilities by assisting its participants with data submission to AJRR when participants request it. MARCQI participants that are contracted with AJRR have access to national benchmarking analytics as well as state data.
Based on number of procedures annually, AJRR is the largest orthopaedic registry in the world. Michigan is among the "top ten" states (see map above) by procedural volume submitted to the Registry. Independently, MARCQI consists of 67 Michigan hospital/ambulatory sites. 525 surgeons submit procedural data to their registry.
Over its first six years, MARCQI has developed some unique and important quality interventions. In the future, AJRR may introduce these innovations to the wider AJRR participant group. Examples of MARCQI quality-improvement projects include those that sought to achieve reductions in venous thromboembolism (VTE), readmissions, infections, dislocations, discharge to nursing homes, ER visits, and opioid usage.
Read more about MARCQI quality improvement efforts here.
Brian Hallstrom, MD, Co-director of MARCQI, said "Working together allows us to complete the loop in quality improvement. Rather than having data moving in one direction, we have it going in a circle, where we can review it together and learn from it."
The California State Registry Joins AJRR
The California Joint Replacement Registry (CJRR) merged with AJRR in 2015 and is now called the California State Registry. The California State Registry addresses the scientific assessment of devices, treatment protocols, surgical approaches, and patient factors influencing the results of hip and knee replacement surgeries for the state. It was the first arthroplasty registry in the United States to introduce public reporting of patient-reported outcomes (PRO) data related to total joint arthroplasty. The California State Registry continues to be in the forefront of U.S. registries that routinely collect PROs. Over 30 California hospitals contribute to the registry.
Over the last three years, as data has been submitted to AJRR, certain CJRR reporting functions remain intact thereby enabling institutions in California to utilize the AJRR as they did before. Even as part of AJRR, the California State Registry activities are still overseen by the California State Registry Committee, a committee within the original CJRR.
Read more about the California State Registry here.
Beyond the States, AJRR Development Roadmap
AJRR works every day to increase the breadth (more procedures, hospitals, ambulatory surgery centers, surgeons) and depth of its hip and knee data collection. The more data, the more analysis and information is available to make better patient treatment decisions. In his UM presentation, Dr. Lewallen shared other AJRR roadmap initiatives that are in progress or under consideration. Read more about these initiatives in future AJRR blogs:
CMS Claims Data for calculating revision rates and device survivorship
Option for ABOS MOC Self-Assessment Credit for surgeons using AJRR Pathway (versus possible future self-assessment exam)
Payer Incentives for hospital and surgeon participation in AJRR as a quality measure
AJRR as a research platform for Multicenter Studies by specialty society or industry partners
Expanded Collaboration with State-based Registries using features and processes developed in California and Michigan
Registries as FDA Premarket Approval and Post Market Surveillance tools for manufacturers
Collaborate with other anatomic areas beyond hip and knee as part of the AAOS Registry Program.
For information about the AJRR RegistryInsights™ platform, speak with a Registry Engagement Associate at (847) 292-0530 or Request A Demo today!
Be sure to leave a comment in the form below!