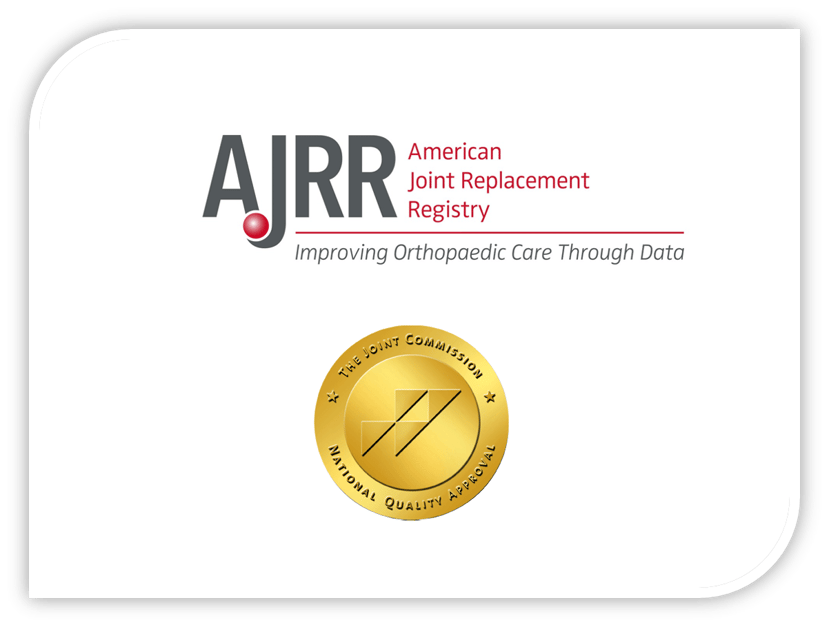 The Joint Commission's mission: to continuously improve health care for the public, in collaboration with other stakeholders, by evaluating health care organizations and inspiring them to excel in providing safe and effective care of the highest quality and value.
Joint Commission Certification is widely recognized as an indicator of exceptional quality in health care by both professionals and the public.
In the specialty of orthopaedics, the American Joint Replacement Registry (AJRR) has been one of The Joint Commission's primary registry stakeholders. AJRR and The Joint Commission began to formally collaborate in 2012 by establishing productive discussions that were focused on recognizing hospitals that submitted data to AJRR. The AJRR Public Advisory Board membership includes a representative from The Joint Commission. AJRR continues to have an active collaborative relationship with The Joint Commission on a variety of topics including their Orthopaedic Joint Replacement Certification process and making registry participation a key component.
Both organizations also collaborate with the International Consortium of Orthopaedic Registers (ICOR), the International Society of Arthroplasty Registries (ISAR), and the Physician Clinical Registry Coalition among others.
Together, Joint Commission Certification and AJRR participation make the whole greater than the sum of its parts, as the hospital and ambulatory surgery center (ASC) quality improvement subsections below demonstrate. This blog's conclusion looks at how to apply what you've learned to your organization's future certification, data registry, and quality improvement efforts.
Hospitals, Certification, and Registry Participation
The Joint Commission Certification process helps your hospital identify and measure areas for improvement. If your organization participates in an audited national data registry like AJRR, you will systematically and consistently be able to submit data, track progress, use benchmarks, and see how your orthopaedic certified program engages and/or improves areas such as length of stay, discharge disposition, surgical site infections, comorbidities (and other patient risk factors), revision rates, and complications data.
Joint Commission accredited hospitals are eligible to apply for optional orthopaedic certification programs if they meet these minimum Joint Commission requirements:
A Joint Commission accredited organization

Program has served more than 10 patients

Use of standardized clinical care delivery based on evidence-based care and clinical practice guidelines

Use of a nationally audited registry or similar data collection tool to monitor data and measure outcomes for specified conditions and procedures
"The Joint Commission is pleased to continue to work with AJRR to support its multiple goals, especially the aim to establish a locus of information that can be used for quality improvement and to increase patient safety related to total hip and knee replacement surgery. AJRR has exhibited a very thoughtful approach to ensuring that it builds a credible data collection infrastructure and to ensuring the usability of the Registry to those focused on reducing morbidity and mortality." said Margaret VanAmringe, The Joint Commission executive vice president for public policy and government relations, and AJRR public advisory board chair.
Ambulatory Surgery Centers, Certification, and Registry Participation
Procedures such as hip and knee replacements that used to require a hospital stay are now increasingly being performed on an outpatient basis in an ambulatory setting.
Joint Commission Addresses ASC Hip and Knee Replacements
The Joint Commission blog entitled Total Hip / Total Knee Replacement Certification Raises Bar for Orthopaedic ASCs summarizes how they are addressing the increasing number of hip and knee replacements performed in outpatient settings. Many organizations have utilized The Joint Commission's Total HIP and Total Knee Replacement (THKR) Certification to help them shift to this new care paradigm. The blog stated that their advanced orthopaedic certification focuses on transitions of care from the pre-surgical orthopaedic consultation through the ASC admission, rehabilitation activities, and the follow-up visit with the orthopaedic surgeon.
The Joint Commission Certification process helps your ASC identify and measure areas for improvement. Like hospital participants, if your ASC participates in AJRR, you will systematically and consistently be able to submit data, track progress, use benchmarks, and see how your orthopaedic certified program engages and/or improves areas such as length of stay, discharge disposition, surgical site infections, comorbidities (and other patient risk factors), revision rates, and complications data.
AJRR and ASCA Synergies
While our discussion has primarily focused on Joint Commission Certification and registry synergies, there is a supplementary ASC effort worth noting. AJRR and the Ambulatory Surgery Center Association (ASCA) announced a collaborative relationship to encourage ASCA-member ASCs to register for the AJRR. Registry participation, and the data that will be compiled, will be used to validate current efforts to reduce health care costs by moving total joint replacements to Medicare's ASC-payable list and expanding the number of private payers that will reimburse ASCs for these procedures. Like AJRR's collaboration with The Joint Commission, the relationship between AJRR and ASCA will create transparency that will educate surgeons, surgery centers, insurers, and patients. The rise of total joint arthroplasty surgeries performed at ASCs will be evaluated based on national benchmarks, cementing ambulatory surgery centers' place among other highly regarded health care facilities.
Read the ASCA/AJRR joint press release here.
Checklist for Researching Your Joint Commission Certification Program
If you are interested in continuous quality improvement and benefiting from The Joint Commission Certification process, you will want to review the following materials:
Contact Marilyn Parenzan at atmparenzan@jointcommision.org to learn more about The Joint Commission Orthopaedic Certification Programs.
Checklist for Choosing a Registry
Look for the following features when choosing a data registry to support your Joint Commission Certified Program, as well as other quality improvement initiatives.
Access to national registry database participation
Qualified clinical data registry (QCDR) designation from Centers for Medicare & Medicaid Services (CMS)
Established EHR data capture and analysis
Network of national database users to allow further investigation of findings at local and national levels and identify best practices
Proprietary data dashboards aligned to your certification program
National comparative dashboards to assess quality and create performance benchmarks
"Quality improvement efforts, like Joint Commission certified orthopaedic programs and others, benefit from three levels of AJRR data," said Daniel J. Berry, MD, AAOS Registry Oversight Committee chair. "New Level II risk-adjusted data supports better informed surgical decisions. New Level III data provides patient-reported outcomes, creating a more comprehensive picture of patient care. In this way, AJRR continues to evolve to meet our participants needs and their continuous focus on improving patient care."
For information about AJRR's RegistryInsights platform, speak with a Business Development Representative at 847-292-0530 or request a demo today!
Be sure to leave a comment in the form below!