New Data, New Initiatives, and New Collaborations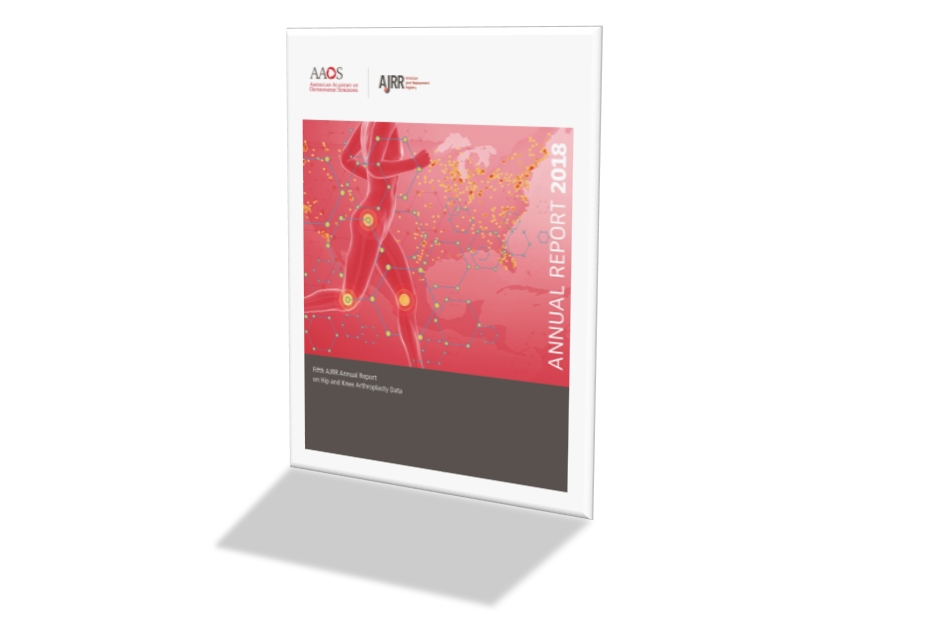 The American Joint Replacement Registry (AJRR), part of the American Academy of Orthopaedic Surgeons (AAOS) Registry Program, releases its 2018 AJRR Annual Report on hip and knee arthroplasty data today at the American Association of Hip and Knee Surgeons (AAHKS) 2018 Annual Meeting. The Annual Report is also available for download. AJRR is the largest orthopaedic registry in the world based on annual procedures submitted. Analysis of the latest Registry data yields new insight into U.S. hip and knee arthroplasty practice. This is the fifth annual report that AJRR has released.
Kevin J. Bozic, MD, MBA, Chair, AJRR Steering Committee, said, "AJRR has been able to move forward with analysis of new data elements and data sources this year. This information has led to new sections in the Annual Report to include an overview of data completeness, patient-reported outcome measures, and implant survivorship curves. We believe these data will prove valuable to orthopaedic surgeons, hospitals, device manufacturers, payors, and most importantly patients as we seek to improve outcomes for hip and knee arthroplasty patients."
2017: A Year of Progress, Growth, and Change
The 2018 AJRR Annual Report is based on findings from 1,186,955 cumulative procedures performed between 2012 and 2017. Major and minor teaching hospitals still supply the majority of procedural data to AJRR, but ambulatory surgery centers are increasingly a factor. The demographics of the AJRR overall patient population have remained unchanged: the average patient is 66.8 years, 41 percent are male, 59 percent are female, and nearly 70 percent self-describe being white.
AJRR surgeons performed a mean of 26 primary hip arthroplasties (THA) per year and 46 primary total knee arthroplasties (TKA), which represents an increase in TKAs and a decrease in THAs compared to 2016. The upper range among surgeons for either procedure is over 600 procedures annually. Established and new TKA and THA treatment and device trends are also highlighted within the report.
It has been an eventful year for AJRR, with new subscriber growth, innovative initiatives, and collaborations. All have contributed to the momentum the Registry experienced in 2017, including AJRR rejoining the AAOS as part of the AAOS Registry Program.
AAOS and AJRR Deliver on Past Promises
In 2017–2018, AAOS and AJRR united through the AAOS Registry Program and successfully delivered on significant past promises to Registry stakeholders. Read about key initiatives in the AJRR Annual Report and find out more about how the Registry can support the AAOS Registry Program, gain access to Medicare claims data, create updated data specifications that support risk-adjusted findings, help ensure data completeness, enhance the RegistryInsights™ dashboard experience, launch an International Prostheses Library, increase published research, and much more that adds value to a subscriber's Registry experience.
Terence J. Gioe, MD, AJRR Annual Report editor, said, "This year's annual report foreshadows the Registry's transition to analytic capabilities that were simply not possible before. Access to over one million Medicare patient records, new data specifications that will support risk-adjusted analysis, and emphasis on data completeness will contribute to future arthroplasty research and findings that may prove or dispel commonly held arthroplasty performance impressions from the past."
A Key Initiative: Updating Data Specifications and Additional Data Elements
The data specifications initiative is a 2017–2018 effort that demonstrates the close collaboration between AJRR and its integrated delivery system, hospital, ambulatory surgery center, and private practice subscribers. Together, they successfully updated AJRR data specifications and achieved alignment with the goal of enhancing the quality and types of data submitted to AJRR. The initial objective was to ensure that the Registry would begin receiving enhanced procedural data, including surgical approach, procedure duration, use of computer navigation and robotic assisted surgery, and length of stay. Enhanced data specifications were added and included requirements for patient comorbidities, body mass index, American Society of Anesthesiologists physical status classification, and discharge disposition. These additional data elements enable the Registry to track surgical complications, as well as risk-adjust data for reporting purposes going forward.
"This initiative, among others, is successful because of the commitment and support of our many stakeholders, and the surgeons and staff at AJRR's participating sites. I extend my thanks and admiration for their ongoing contribution to AJRR," said Daniel J. Berry, MD, chair, AAOS Registry Oversight Committee.
Over a Million Reasons to Join AJRR
AJRR became the cornerstone of the AAOS Registry Program in October 2017. AAOS provides greater resources and expertise, extending AJRR's reach and enabling it to surpass the approximately 1.4 million total joint arthroplasty procedures currently housed in its database. Size matters—and all AJRR subscribers benefit from the rapidly expanding scope of data available.
Like AJRR, the mission of the larger AAOS Registry Program is to improve orthopaedic care through the collection, analysis, and reporting of actionable data. The program's vision, however, extends beyond hips and knees to include additional anatomic areas. Its vision is to be the National Registry for orthopaedics through comprehensive data and technology resulting in optimal patient outcomes. New anatomic registries, like the Shoulder & Elbow Registry that launched October 24, 2018, as well as others launching in 2019, will quickly expand the Program.
For information about the AAOS RegistryInsights™ platform, speak with a Registry Engagement Associate at (847) 292-0530 or Request A Demo today!
Be sure to leave a comment in the form below!