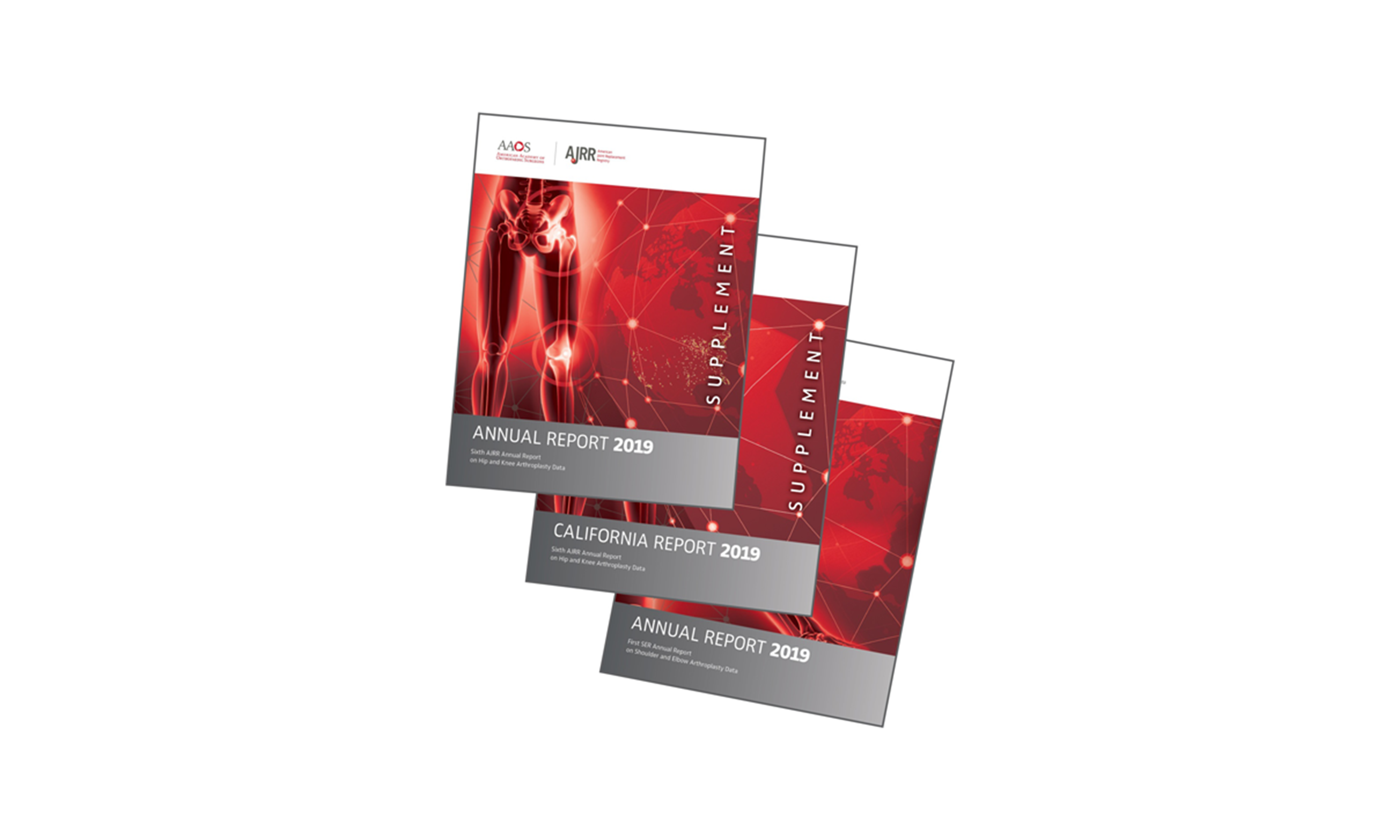 This article was originally published in the May 2020 issue of AAOS Now, the American Academy of Orthopaedic Surgeons (AAOS) monthly news magazine.
When the question is, "What's new with the AAOS Registry Program?" a safe answer is always, "Plenty!"
The AAOS Family of Registries is an ever-growing clan, both in numbers of anatomically categorized programs and in the volume and quality of data that continue to pour into these valuable clinical data repositories for orthopaedic procedures. Also growing are the ways the data can be used to improve the quality and value of care.
For the cornerstone American Joint Replacement Registry (AJRR), 2019 was a year of continued robust progress and numerous successes. As detailed in its 2019 Annual Report, which reflects data related to hip and knee arthroplasty procedures performed in participating institutions between 2012 and 2018, AJRR, with more than 1.5 million patients and more than 1.9 million procedures currently captured, is the largest orthopaedic registry by annual procedure count.
Elsewhere on the registry front, of particular note over recent months were two product introductions and one expansion:
addition of the Musculoskeletal Tumor Registry to the Registry Program, as it graduated from a pilot to a full-fledged platform


collaboration with the American Association of Neurological Surgeons to create and launch the American Spine Registry


continuing evolution of the Shoulder & Elbow Registry (SER) as it has matured into a fully comprehensive platform for its anatomic purview and has published its first Annual Report
Information: Let It Flow
By their very nature, registries are not static vaults into which stacks of records are dumped, seldom revisited or used to their full potential to advance or transform the way things are done. One of the main ways the Academy ensures that its registries function as dynamic engines driving innovation and improvement is to provide continuous updates to reporting compiled in the registries. Thus, in addition to issuing a traditional Annual Report on the data compiled and analyzed over the year, the Academy supplements the yearly updates with additional insights and analyses.
Specifically, the Academy has released two new supplement reports based on clinical data on hip and knee arthroplasty patient outcomes in AJRR. Additionally, AJRR is the largest database of patient-reported outcomes for total joint arthroplasty (TJA) in the world. The new reports, which offer actionable information to guide physician and patient decision-making to improve care, consist of the 2019 supplement to the AJRR Annual Report along with a supplement for California participations.
"The new data coming out of the Registry supplements are impressive and an exciting extension of the AJRR's first Annual Report, which debuted in 2013," said Bryan D. Springer, MD, FAAOS, chair of the AJRR Steering Committee. "Each report was made possible by the increasing participation of our sites who supply the data, as well as the successful integration of administrative Medicare claims data into AJRR in 2018, which provides a more complete picture of our patient population and their associated comorbidities and outcomes, including longitudinal outcomes of patients who receive care at non-AJRR participating sites."
The AJRR 2019 Annual Report Supplement provides more in-depth information from the more than 1.94 million hip and knee arthroplasty procedures contained within the AJRR 2019 Annual Report. In fact, everyone involved in the Registry initiative is eagerly awaiting the day when the 2 million mark is reached. The supplement covers the fact that this year represents the first time AJRR has published device-specific survivorship curves comparing common hip and knee constructs. In addition, results offer a representative analysis of patient populations within the data.
"The inclusion of Medicare claims data has given us access to more robust and complete patient information, which allows us to investigate timely topics, including the role of dual mobility bearings in total hip arthroplasty (THA) and cementless fixation in total knee arthroplasty (TKA)," said Kevin J. Bozic, MD, FAAOS, MBA, AJRR representative on the AAOS Registry Oversight Committee. "The level of understanding we are able to gain from these enhanced AJRR data, including clinical, implant-related, patient-reported outcomes, and now administrative claims, provides unique insights into the factors that influence outcomes for patients who undergo hip or knee replacement surgery."
Device groupings were developed based on AJRR component data. Components were grouped based on device attributes specific to each procedure type. THA cases were aggregated based on femoral stem and acetabular shell components. TKA cases were aggregated based on femoral component, tibial insert, and tibial baseplate components.
For the survivorship curves, the takeaways are:
Hip Arthroplasty Constructs: According to the data, the majority of variation in the hip device-specific survivorship curves appeared to occur within one year of the primary procedure. Early failure is typically a result of infection, dislocation, or periprosthetic fracture, which may or may not be related to the implant itself.


Knee Arthroplasty Constructs: Unlike the hip device-specific survivorship curves, which showed some divergence in the first year, the knee device curves showed very little divergence for both posterior stabilized and cruciate-retaining constructs.
In regard to representativeness, although AJRR data capture more than 32 percent of all hip and knee procedures performed in the United States, leadership wanted to assess the actual representativeness of the AJRR population against national data. To address that uncertainty, investigators assessed the degree to which the AJRR population may be viewed as reliably reflective by comparing characteristics of TJA procedures in AJRR with those in the National Inpatient Sample database.
AJRR 2019 California Report
Directed by the California State Registry Committee to monitor the progress and participation of California sites, the new California-specific Registry supplement continues the work originally established by the California Joint Replacement Registry (CJRR), which merged into AJRR in 2015. The report focuses on the 30 original CJRR sites, for which there were 303 unique surgeons with a valid surgeon ID for analyses. In total, the AJRR 2019 California Report comprises 57,246 unique hip and knee cases from 2012 through 2018.
SER Debuts
In April, AAOS' SER released its first full Annual Report. The new report expands on the information released in fall 2019 to represent submitted shoulder and elbow procedures dating from early 2015 through March 6 of this year. The report helps ensure identification and analysis of relevant and impactful data to improve the quality of patient care as it relates to the upper extremity.
"There are more than 750,000 total shoulder arthroplasty, rotator cuff repair, and total elbow arthroplasty surgeries performed in the United States each year," said Gerald R. Williams Jr, MD, FAAOS, chair of AAOS' SER Steering Committee. "With the release of the first SER Annual Report, orthopaedic surgeons and professionals across the country can now access a massive amount of clinical data with which important decisions can be made for our patients for decades to come. An evidence-based registry such as SER is integral for benchmarking risk-adjusted data and providing greater context to patient outcomes comparisons."
Among the participants in SER is Mayo Clinic. Joaquin Sanchez-Sotelo, MD, PhD, director of the shoulder and elbow program at Mayo, commented, "I am proud to be one of the first participating surgeons in the first-ever AAOS SER in the United States. Having had access in the past to our own Institutional Joint Registry Database, established at Mayo Clinic decades ago, I know this Registry will become an invaluable resource, growing over time proportionally to the number of surgeons and institutions that perform shoulder arthroplasty, rotator cuff repair, and elbow arthroplasty and contributing their data."
To date, there are more than 94 participating facilities, including hospitals, private practices, and ambulatory surgery centers, spanning 26 U.S. states.
Yours for the Reading
All AJRR reports, including both the 2019 edition and the new supplement—as well as reports of past years—along with the California-focused AJRR report, are available for download simply by visiting the AAOS Registry Program website. A bonus feature that many Registry-involved surgeons will find of value is a deck of 70 figures and 14 tables from the AJRR 2019 Annual Report on hip and knee arthroplasty data in PowerPoint format; the slides for the 2019 California Report are available as well. There are notes with talking points on each slide. AAOS surgeons should feel free to use them as supporting materials for any presentations they may give. These slide collections are accessible through a simple download request function on the Registry Program website.
For those presenting the PowerPoint slides, the Academy Registry Program simply asks that you include the following citation: American Joint Replacement Registry (AJRR): 2019 Annual Report. Rosemont, IL: American Academy of Orthopaedic Surgeons (AAOS), 2019.
To download all AAOS Registry Program Annual Reports and figures, visit https://www.aaos.org/registries/publications/.
Terry Stanton is the senior science writer for AAOS Now. He can be reached at tstanton@aaos.org.
Be sure to leave a comment in the form below!