How Impending Knee Replacement Surgery Took One Arthroplasty Surgeon by Surprise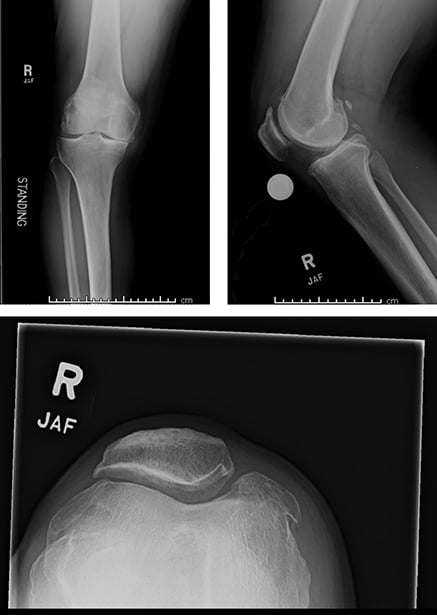 Fig. 1 Three preoperative radiographic views from Kevin J. Bozic, MD, MBA, of the right knee showing severe medical joint space narrowing and patellofemoral osteoarthritis.
COURTESY OF KEVIN J. BOZIC, MD, MBA
This blog is the first of a two-part series that originally appeared in AAOS Now (July 2019). It shares an interview with Dr. Kevin J. Bozic, MBA, about his own experience with total knee arthroplasty (TKA) and how his decision process and treatment affected him as a patient. In August, our blog will share the second part of the interview which explores, not only his own post-operative patient journey, but how the role reversal from physician-to-patient influenced his interaction with the surgical patients he treats today. The interviews were conducted by Meredith L. Grogan Moore, BS*.
Kevin J. Bozic, MD, MBA, is a renowned joint replacement surgeon in Austin, Texas. After graduating from the Harvard Combined Orthopaedic Residency Program, he trained in adult reconstructive surgery at Rush University Medical Center in Chicago. Widely published across orthopaedic and health services journals, he is a pioneer in value-based health care. He is also chair of the Steering Committee for the American Joint Replacement Registry. A few years ago, Dr. Bozic found himself on a path to reconstructive surgery of his own knee. From the outset, unique considerations emerged. His preoperative physician-turned-patient experience is illuminating.
Ms. Moore: What first made you consider joint replacement?
Dr. Bozic: I injured myself running while I was in residency. I never had a knee injury before. One of my attendings at the time noticed me limping around and asked what was wrong with my knee. I told him, "I don't know; it's swollen," and he advised an MRI, which diagnosed a meniscal tear. At that time, I thought you had to do something about a meniscal tear. I had my meniscus débrided and repaired; then three years later, I had the same problem. I had the rest of the meniscus removed, which we now know leads to arthritis. I was able to run for another 10 years, but eventually was limping around again.
I got another X-ray, and despite being in my 40s, I had arthritis (Fig. 1). I thought "I'm too young; I only treat old people."
Ms. Moore: Surely the X-ray looked very familiar when you looked at it yourself?
It scared me because I thought, "You're not supposed to have that until you're old." I realized I couldn't run anymore, so I had to cross-train and switch to other activities. I told myself, "I'm going to put this off until I am at least 50 years old," and I kept having to modify my lifestyle. I got to the point where I was pretty miserable. I went from taking 800 mg of ibuprofen every day to 1,600 to 2,400 mg and augmenting with acetaminophen. My kids' bedrooms are downstairs in our home, and I got to the point where I thought, "I don't know if I want to go down and read books tonight, because I don't want to go down the stairs." That made me realize I needed to do something. When I turned 50, I decided it was time to do it.
Ms. Moore: In terms of how you finally decided on joint replacement, it sounds like you hit your personal threshold age?
Dr. Bozic: It's like I tell my patients—the time to do it is when their pain is interfering with their quality of life on a daily basis. It was for me; it was affecting decisions in my life.
Doing the surgery at age 50 may have been younger than I would have had considered it if I weren't in the field. A lot of my friends who are my age think they're too young to have their joints replaced; most people think you have to be old. Seeing the impact this surgery has on my patients' lives helped me gain a better understanding of the potential benefits. For most people who don't do this for a living, I think it's uncertain; they hear some good and bad stories. I had thousands of patients' worth of experience hearing about how it impacted their lifestyle, so I was optimistic.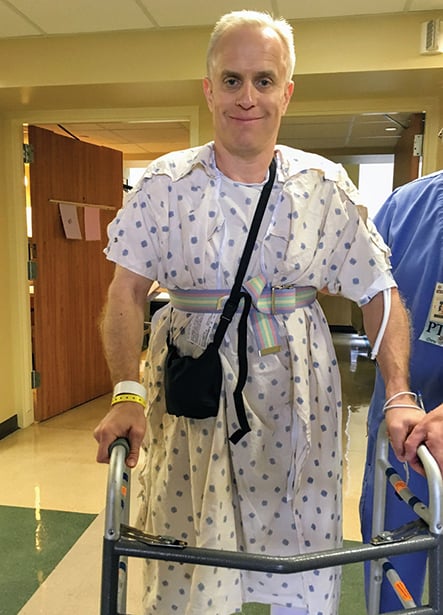 Kevin J. Bozic, MD, MBA, at the hospital right after his knee replacement surgery, walking with assistance
COURTESY OF CHRISTI BOZIC
Ms. Moore: How did you select your joint replacement surgeon?
Dr. Bozic: It was a colleague who I trusted and whose practice I was familiar with after working with him in the operating room and outpatient setting. I appreciated his indications, although I was directly involved in the indications myself. His surgical technique and the fact that he really embraced putting his patients first—going above and beyond to do what was best for his patients—were drivers.
Ms. Moore: Did you seek out his outcome metrics? Did this information impact your choice?
Dr. Bozic: I did. I'm director of the orthopaedic service line for our health system, so I had access to his metrics. Most patients would not have that information. As insiders, there are times when we think that a particular surgeon has better outcomes than the data actually show. I know this happens to patients all the time. They are told that Doctor X is the person to see, but if they actually saw the scorecard, they would realize that Doctor X is not the person to go to.
Ms. Moore: Can you describe your thoughts leading up to the surgery?
Dr. Bozic: I had a lot of anxiety—about how much time I was going to be off work, having other people take care of me, not being in control of my life, and the pain and rehab.
Ms. Moore: To what extent did you try to guide your treatment?
Dr. Bozic: I asked my surgeon to just treat me as he would any other patient. I remember after the surgery, he asked me if I wanted to spend the night or go home. My wife made that decision for him and said, "He's staying."
There was one thing I tried to influence—my surgeon was experimenting with robotic surgery at the time, and I asked him not to use it because I didn't have faith in that technology.
Ms. Moore: Did you try to influence the prosthetic your surgeon implanted?
Dr. Bozic: No. I consider implants to be very generic and interchangeable. I found out beforehand what it was, but it didn't really matter to me. I wanted my surgeon to select the implant system he was most comfortable with.
Ms. Moore: Was your experience reflective of what your patients go through?
Dr. Bozic: I didn't go to any postoperative visits; my surgeon came to my home to evaluate my wound. I didn't go through formal physical therapy, and I still haven't had an X-ray since the post-anesthesia care unit (Fig. 2).
There were a lot of things I did that violate the normal protocol. I think that's part of the reason people get into trouble—why with health care providers' outcomes, we tend to hear the horror stories. We say, "This person is important, so we have to treat them differently." Outcomes are more variable because clinical care pathways aren't followed. There's a reason we treat everyone the same using standardized care pathways—that leads to better outcomes. I didn't do the therapy or postoperative visits the way I was supposed to.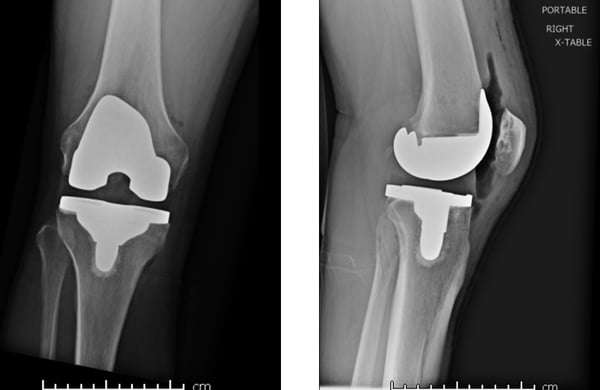 Fig 2. Two radiographic views from Kevin J. Bozic, MD, MBA, of right knee status post-total knee arthroplasty
COURTESY OF KEVIN J. BOZIC, MD, MBA
Ms. Moore: How did you treat your surgeon, given that you're in the medical field and perform this same procedure yourself?
Dr. Bozic: I think it was anxiety- provoking for him, especially because of who I am and the fact that I am known locally and nationally. I think he felt a lot of pressure. He joked to me, "This is a no-win situation for me; if it goes well, no one will know who did your surgery; if it doesn't go well, everyone will know." He would try to involve me in decisions, and I said, "That's up to you."
Conclusion
Years ago, Dr. Bozic learned his pain was telling him something. This realization led to his decision to undergo TKA, settling on when to have this done, selecting the right surgeon for the job, and balancing his involvement with his own upcoming case. This was not a usual perioperative journey, and his longstanding experience in the field affected his planning. In the next installment, we will report on the postoperative period and Dr. Bozic's reflections on the surgery.
The Dell Medical School at the University of Texas at Austin is planning a qualitative study. If you have been through a similar experience of undergoing arthroplasty after or during a career in adult reconstruction, the research team wants to talk to you; email lauren.uhler@austin.utexas.edu.
*Meredith L. Grogan Moore, BS, is a value-based care fellow in the Department of Surgery & Perioperative Care at Dell Medical School at the University of Texas at Austin.
For information about the AAOS RegistryInsights® platform, speak with a Registry Engagement Associate at (847) 292-0530 or Request A Demo today!
Be sure to leave a comment in the form below!