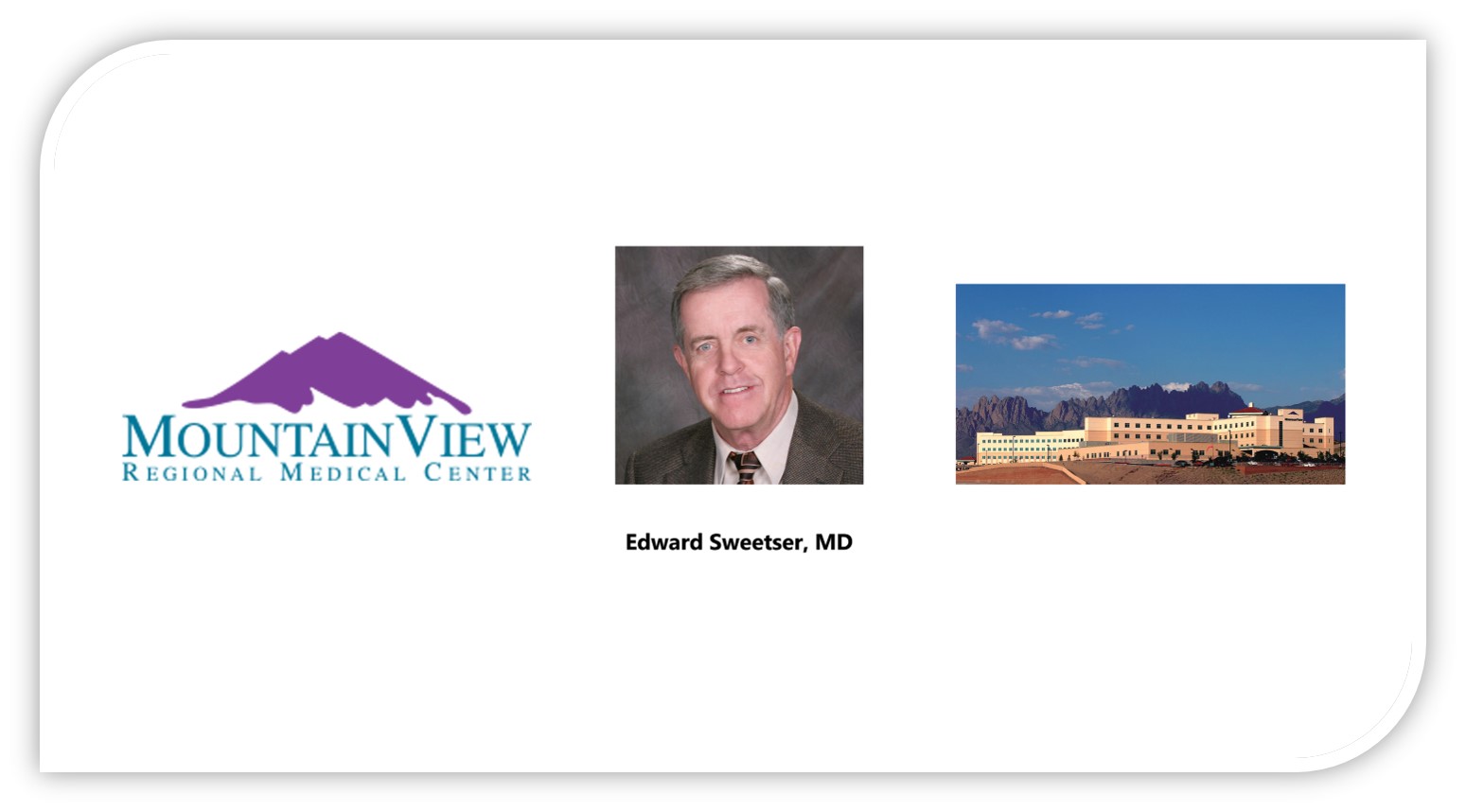 This article was originally published in the August 2018 issue of AAOS Now, the American Academy of Orthopaedic Surgeons' (AAOS) monthly news magazine. The article concludes a three-part series illustrating practical aspects of AJRR participation through shared success stories from subscribing institutions. All three installments can be found at www.aaosnow.org.
MountainView Regional Medical Center (MVRM), located in Las Cruces, NM, has been an American Joint Replacement Registry (AJRR) subscriber since November 2014. Their AJRR participation helped MountainView's Total Hip and Knee Replacement Center utilize Registry benefits to achieve and maintain the Joint Commission's Gold Seal for core certification. Other health care institutions can learn from the Center's checklist for choosing a registry capable of supporting a Joint Commission Certified Program.
Measures That Matter
The Joint Commission certification process provides MVRM with a framework to identify and measure areas for improvement. Because MVRM participates in an audited national data registry (the AJRR), they can systematically and consistently submit data, track progress, use benchmarks and see how their Total Hip and Knee Replacement Center's certified program engages and/or improves various performance areas. Measures can include length of stay (LOS), discharge disposition, surgical site infections, comorbidities and other patient risk factors, revision rates, and complications data. These are measures that matter in the Joint Commission review process.
Beyond certification, registry data trending and benchmarking can provide insight into volume changes (Fig. 1), serve as an early warning in identifying safety issues, provide insights that influence surgeon and clinical staff behavior (Fig. 2), and decrease costs from excessive resource usage among other benefits.
Results That Matter
Examples of MVRM's orthopaedic quality improvement results include the following:
2016-2018 (last 1.5 years), LOS was reduced from 2.6 days to 1.3 days (Fig. 3)
2013-2018 (last five years), LOS was reduced from four days to 1.3 days (Fig. 3)
2016-2018 (last two years), patient discharge-to-home increased from 62 percent to 83 percent (Fig. 4)
Monitoring comorbidities prior to surgery has reduced surgery cancellations to near-zero among higher risk patients

Best Practice: Hemoglobin must be less than 7 g/dL to move forward with surgery
Best Practice: Body mass index must be below 40 kg/m² to move forward with surgery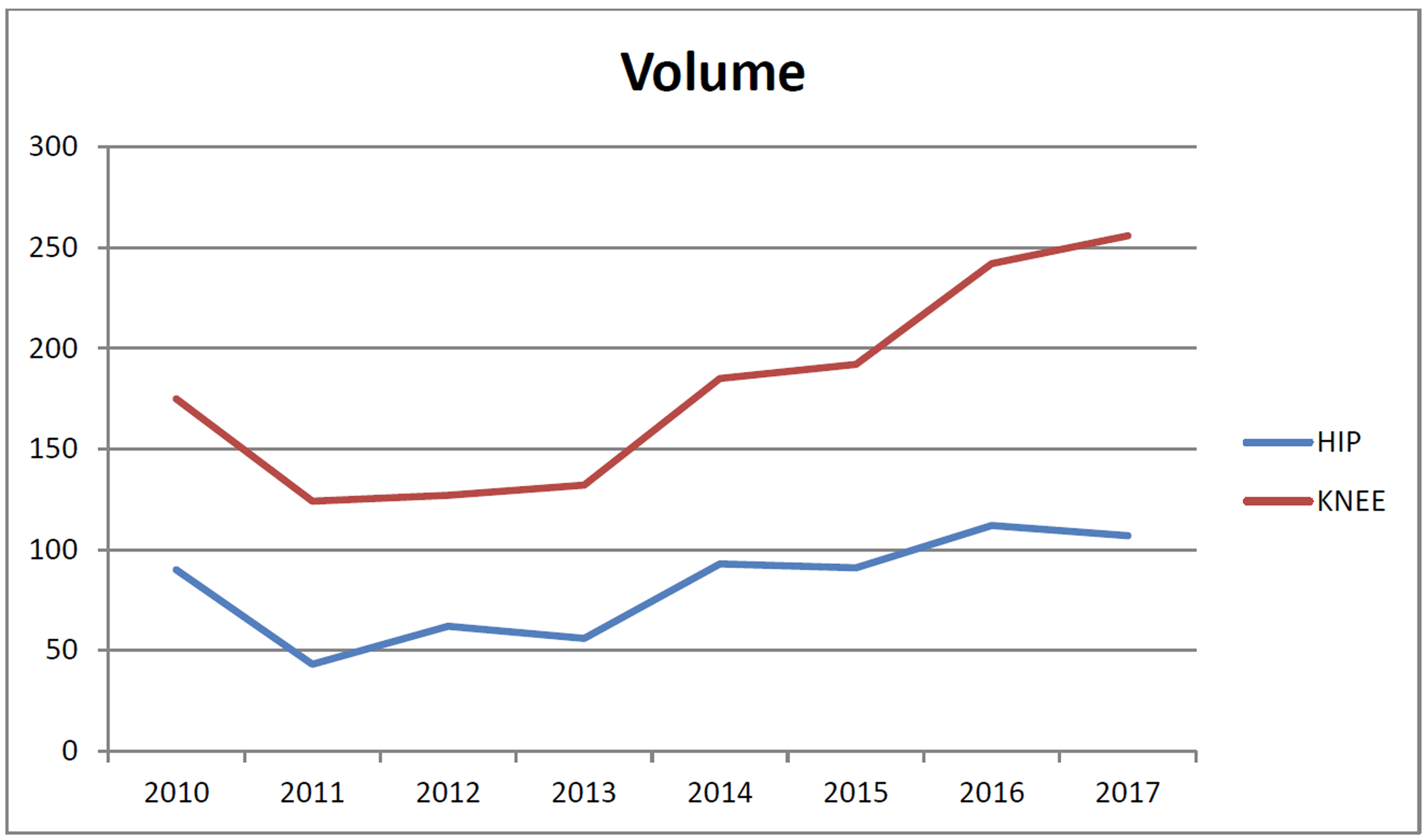 Fig. 1 MVRM's Total Hip and Knee Replacement Center doubled its procedural volume between 2011 and 2017.
COURTESY OF MVRM AND EDWARD SWEETSER, MD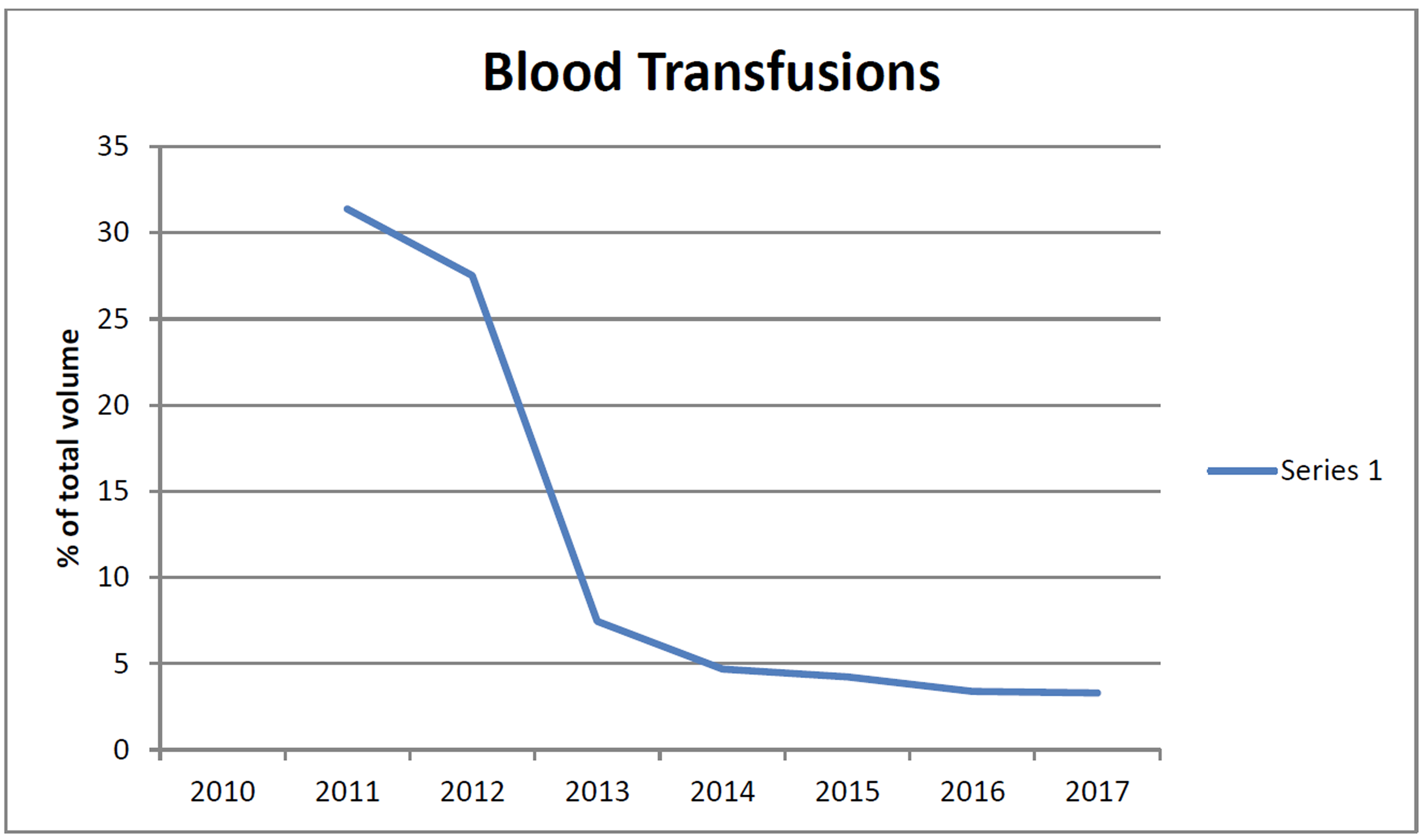 Fig. 2 Monitoring hematocrit prior to surgery, ensuring that it is 34 or higher, and using tranexamic acid during surgery helped reduce the need for blood transfusions to near-zero levels.
COURTESY OF MVRM AND EDWARD SWEETSER, MD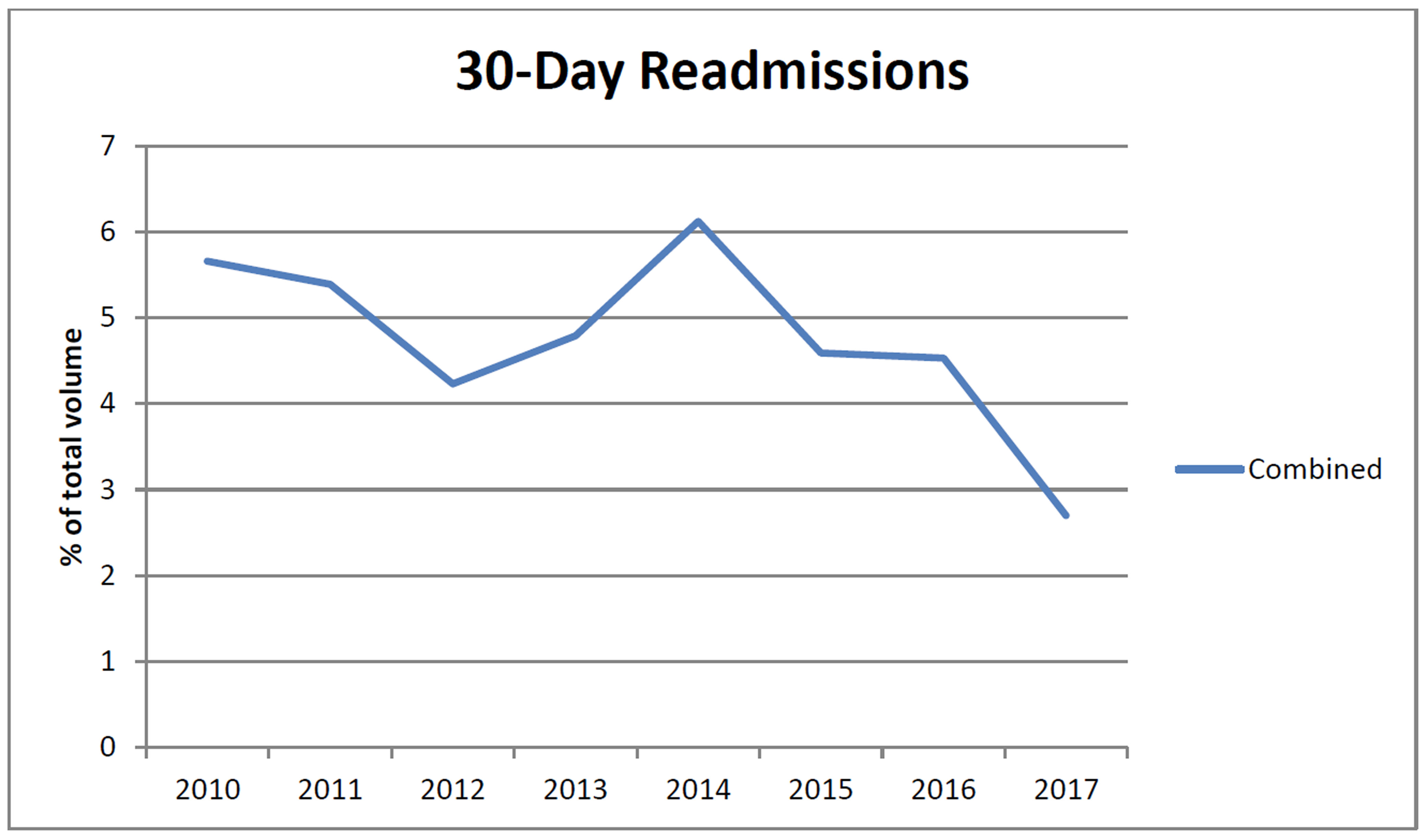 Fig. 3 MVRM's combined hip and knee surgery 30-day readmission rate was reduced from more than 5 percent of total volume in 2011 to less than 3 percent in 2017.
COURTESY OF MVRM AND EDWARD SWEETSER, MD
Fig. 4 In the last two years (2016 – 2018), MVRM's combined hip and knee surgery discharge-to-home increased from 62 percent to 83 percent, allowing more patients to return home sooner.
COURTESY OF MVRM AND EDWARD SWEETSER, MD
First Steps in Achieving the Gold Seal
Joint Commission–accredited hospitals are eligible to apply for optional orthopaedic certification programs if they meet these minimum Joint Commission requirements:
program has served more than 10 patients;
use of standardized clinical care delivery based on evidence-based care and clinical practice guidelines; and,
use of a nationally audited registry or similar data collection tool to monitor data and measure outcomes for specified conditions and procedures.
"Our entry into AJRR has greatly enhanced our data collection, measurement, and analytical capabilities regarding various Joint Commission certification requirements," said Edward Sweetser, MD, of MountainView Regional Medical Center.
Daniel J. Berry, MD - chair of the AAOS Registry Oversight Committee - added, "Quality improvement efforts, like Joint Commission–certified orthopaedic programs and others benefit from three levels of AJRR data. New Level II risk-adjusted data supports better informed surgical decisions. New Level III data provides patient-reported outcomes, creating a more comprehensive picture of patient care. In this way, AJRR continues to evolve to meet our participants' needs and their continuous focus on improving patient care."
MVRM Checklist for Choosing a Registry
MVRM's experience suggests that facilities look for the following features when choosing a data registry to support their Joint Commission–certified program, as well as other quality improvement initiatives:
access to national registry database participation;
Qualified Clinical Data Registry designation from the Center for Medicare & Medicaid Services;
established electronic health record data capture and analysis;
network of national database users to allow further investigation of findings at local and national levels and identify best practices;
proprietary data dashboards aligned to the certification program; and,
national comparative dashboards to assess quality and create performance benchmarks.
Dr. Sweetser concluded, "As a national registry, AJRR is able to provide the most accurate and complete picture of the arthroplasty experience in the United States. By [AJRR] providing benchmarking and monitoring outcomes of arthroplasty, we can further advance the efforts of patient safety and quality of care. Implementation of a certified orthopaedic program and national registry participation provides clinicians with an efficient framework to improve patient outcomes at the hospital and surgeon levels."
Karen Metropulos, MBA, is a content writer and blog editor at the AJRR, part of the AAOS Registry Program.
For information about the AJRR RegistryInsights™ platform, speak with a Registry Engagement Associate at (847) 292-0530 or Request A Demo today!
Be sure to leave a comment in the form below!