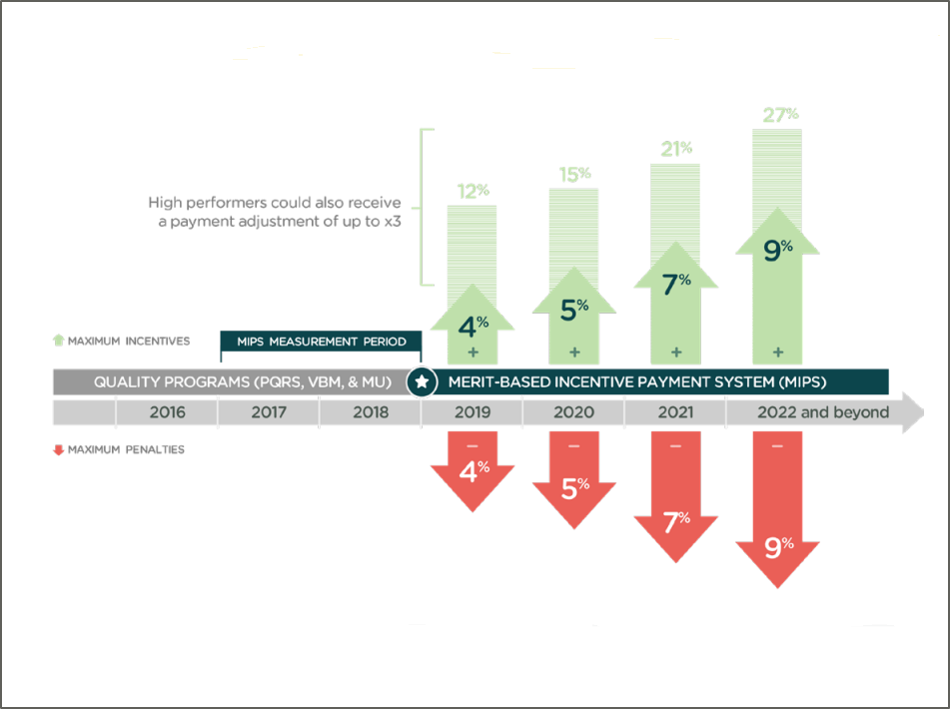 The American Joint Replacement Registry (AJRR) became part of the American Academy of Orthopaedic Surgeons (AAOS) on October 17, 2017. As AAOS embarks on registry expansion and integration with the AJRR, they remain dedicated to improving the quality of musculoskeletal care that orthopaedic surgeons can deliver. Within this mission, the AJRR, the national hip and knee registry, has maintained a U.S. Centers for Medicare & Medicaid Services (CMS)-approved qualified clinical data registry (QCDR) since 2014. Now known as the AAOS Orthopaedic Quality Resource Center, this unit has been designated by CMS as a QCDR for 2018.
For orthopaedic surgeons, this means that the QCDR status can help eligible professionals (EPs) and group practices receive positive payment adjustments and avoid penalties under the Merit-based Incentive Payment System (MIPS) component of the Medicare Access and CHIP Reauthorization Act of 2015 (MACRA).
The AAOS Orthopaedic Quality Resource Center is a collaboration between AJRR, the American Association of Hip and Knee Surgeons (AAHKS), the Orthopaedic Trauma Association (OTA), and the American Orthopaedic Association's (AOA) Own the Bone program. The QCDR is held on a platform developed by Premier, Inc. This initiative marks the first year that AAOS has been involved in the expansion of the measures.
Learn more about the AAOS OPS List here.
"The AJRR is pleased to announce that the Orthopaedic Quality Resource Center has been designated as a QCDR once again for 2018," said AJRR Steering Committee Chair Kevin J. Bozic, MD, MBA.
"Our partnership with other orthopaedic organizations focused on improving value for patients has allowed us to offer a great resource for surgeons in past years. And now, with the support of AAOS, we can use their expertise to inform the measures our QCDR collects," he added.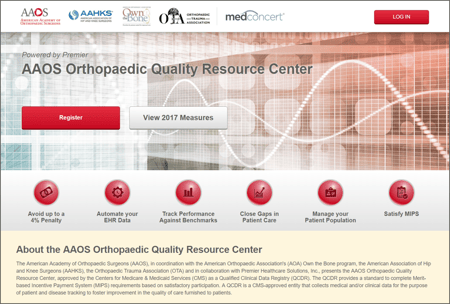 The 2018 AAOS Orthopaedic Quality Resource Center will have 38 measures, including three AAHKS-sponsored hip and knee measures and the Academy's own 2017 Orthopaedic Preferred Specialty (OPS) List. The AOA's Own the Bone program has also provided measures that will remain as part of the platform. The 2017 OPS List's measures were selected because they are not burdensome to report and are highly relevant to the majority of orthopaedic surgeons. The AAOS QCDR can be used by EPs across all orthopaedic specialties.
QCDRs can submit quality data directly to CMS, an essential capability enabling surgeons to satisfy the requirements of the MIPS track of MACRA. There are a few situations that exclude orthopaedic surgeons from being eligible to meet MIPS, but most surgeons are expected either to participate or face a penalty on Medicare Part B claims. MIPS participants can earn either a positive or negative reimbursement. The payment adjustment percentages will increase each performance year, eventually becoming a 9 percent positive or negative payment adjustment on 2020 program year data. High performers in 2020 potentially will be able to earn a positive adjustment three times that, or 27 percent.
MIPS has four components, and three of them replace past CMS programs. The aligned programs include the Physician Quality Reporting System (PQRS), Value-Based Modifier (VBM), and the Electronic Health Record (EHR) Incentive Program, or Meaningful Use.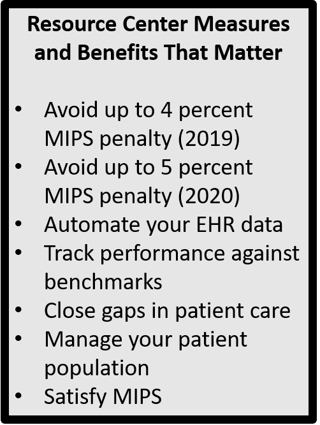 "CMS changed its QCDR application process, and organizations are now designated five months sooner," Dr. Bozic explained. "This gives more opportunities for surgeons to submit MIPS data, and therefore more chances to implement improvement in the value delivered to patients in a way that will benefit their practice and patients, and potentially result in financial remuneration. One of the Academy's primary goals is to facilitate high-value patient care among its members with patient outcome registries. The designation of the Orthopaedic Quality Resource Center will set the precedent for more progress to come."
For more information about the AAOS Orthopaedic Quality Resource Center, call an AJRR Business Development Representative at (847) 292-0530 or visit www.AJRR.net.
Be sure to leave a comment in the form below!