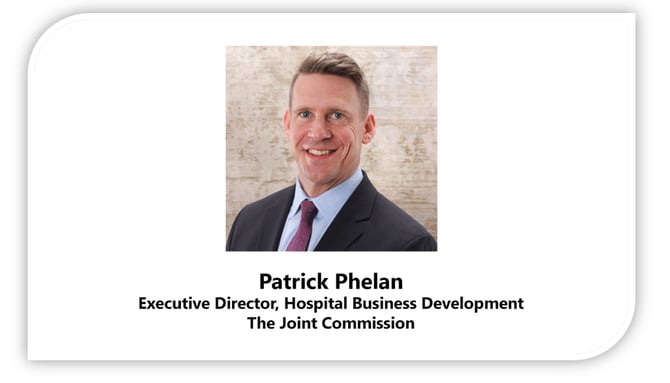 Guest Blogger: The Joint Commission Executive Director, Hospital Business Development, Patrick Phelan
Joint replacements are on the rise and will only increase over the next decade. When serving these patients, you want to be sure your team is providing consistent, quality care across the continuum. The Joint Commission Advanced Certification for Total Hip and Total Knee Replacement (THKR) is a way to put in place a framework for consistency reducing variation, risk, and improving patient outcomes through clinically proven evidence-based standards.
This certification can help hospitals and ambulatory surgery centers (ASCs) develop consistent communication and collaboration among all health care providers involved in the care of the patient – from the pre-surgical orthopaedic consultation with the surgeon to the intraoperative, hospitalization or ASC admission, rehabilitation activities, and then the follow-up visit with the orthopaedic surgeon. It is offered by The Joint Commission in collaboration with the American Academy of Orthopaedic Surgeons (AAOS) American Joint Replacement Registry (AJRR).
AJRR is the the sole pathway to achieve the registry requirement of Advanced Certification for THKR. Updated in 2020, the AJRR data specifications include data elements for the Advanced Certification and reduce data entry burden for participants. Sites are able to automatically extract the required data from their electronic health record (EHR) systems and visualize them on the AAOS RegistryInsights® platform dashboards. This allows for efficient tracking and analysis.
Additionally, sites can export the necessary data from the RegistryInsights dashboards to facilitate the submission process to The Joint Commission. AJRR participants have access to this service at any time.
Sites that achieve the Advanced Certification may experience improved patient outcomes over time, increased patient volumes through referrals, and the attraction and retention of highly competent staff. Certification also shows an organization's commitment to continuous improvement. The Joint Commission has over 1,100 orthopaedic certified programs and your site could transition to the Advanced program to become a member of an elite group who have achieved this milestone.
Download this certification comparison chart to learn about what it takes to be certified. To learn more about the Advanced Certification, contact The Joint Commission at certification@jointcommission.org.
If you would like to learn more about AJRR participation, contact AAOS Registry Engagement at RegistryEngagement@aaos.org.
Be sure to leave a comment in the form below!