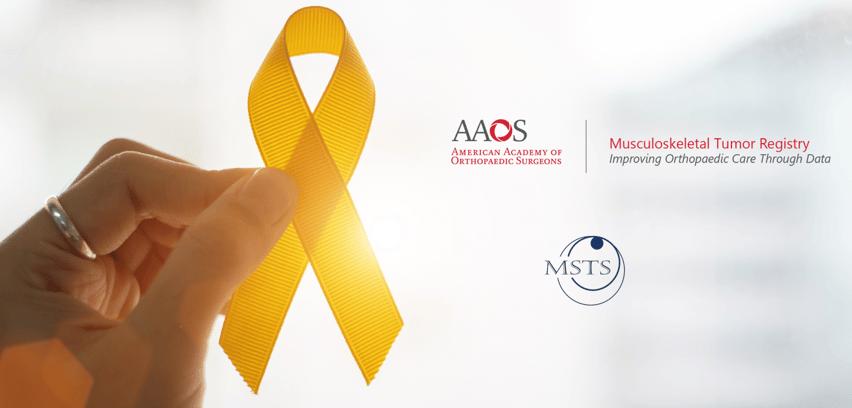 Sarcoma is often referred to as the 'forgotten cancer' and this July during National Sarcoma Awareness Month, the AAOS and the Musculoskeletal Tumor Society (MSTS) join forces to bring you some uplifting patient/surgeon stories. Together, we are working towards analyzing data to aid in finding a cure for sarcoma.
Kami Kuhns
Orthopaedic Surgeon: Benjamin Miller, MD, MS, FAAOS
Hospital: University of Iowa Hospitals and Clinics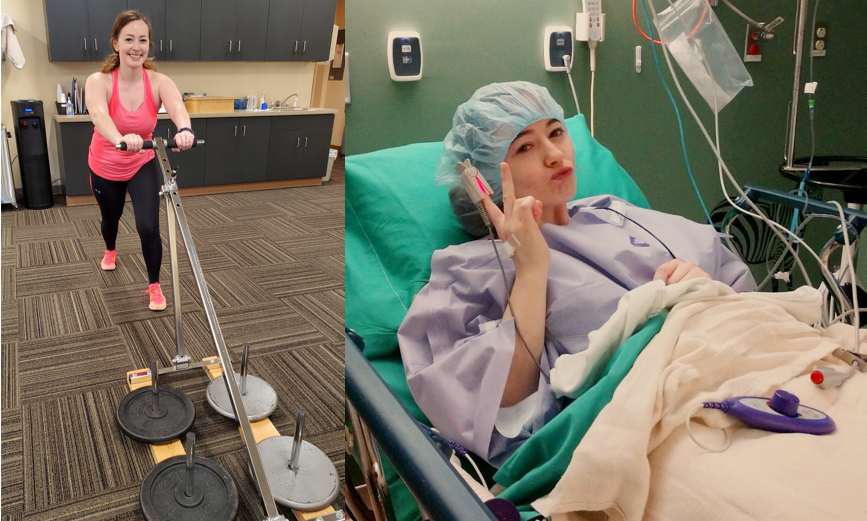 I was diagnosed with parosteal osteosarcoma in January 2019 when I was 25 years old. My local doctor had ordered an x-ray and CT after my left leg unexpectedly went numb after months of intermittent pain. The scans showed I had a tumor located on my left hip joint and I was promptly referred to University of Iowa Hospitals and Clinics to see orthopedic surgery and oncology.
One of the most surprising aspects of my journey with cancer was getting the call from my orthopedic surgeon, Dr. Miller, informing me that they decided I may be a good candidate for a custom-made implant to reconstruct the areas removed by surgery. I felt like I was living in the future of health care, and I am still very thankful for the opportunity to have a chance at my best outcome. The surgery was successful and I am continuing to work with physical therapy to regain as much strength as possible. It has taken a lot of time and effort, but I have definitely come a long way and continue to make some gains in my mobility.
One of the hardest aspects of my cancer diagnosis and surgery has been letting go of some of my most loved activities such as running. It has been a huge learning and coping process for me, but also a great lesson in gratitude for what I have. I feel so thankful to currently be cancer free and I am grateful to have providers who are compassionate and truly value my quality of life. Now over one-year post surgery, I am working full time and have transitioned my role from hospital social work into oncology social work. One of the best parts of my job is being there for patients as they navigate their own journey with cancer and using my experiences to help relate when necessary.
I am so fortunate to have had a successful sarcoma story, and I give a lot of credit for that to the wonderful orthopedic care team at University of Iowa Hospitals and Clinics.
Vicki Cutone
Orthopaedic Surgeon: Eric R. Henderson, MD, FAAOS
Hospital: Dartmouth-Hitchcock Medical Center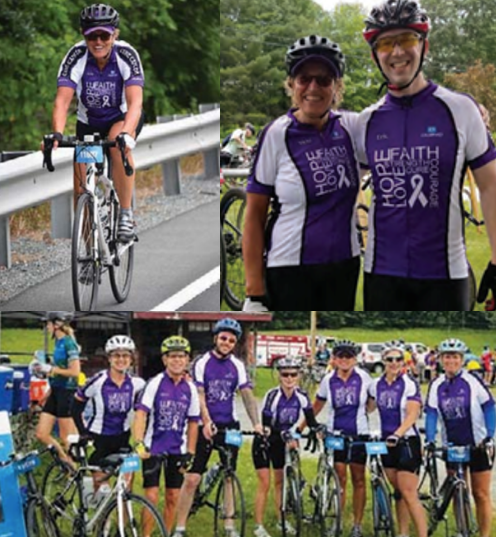 Vicki faced a life-changing moment several years ago when she was diagnosed with a rare sarcoma cancer. Shortly after the diagnosis, Vicki began working with a medical team from Dartmouth- Hitchcock, including Dr. Eric Henderson to battle the cancer that started in her thigh. She underwent 25 treatments of radiation prior to her surgery that removed the cancer from her body. Her orthopaedic surgeon, Dr. Henderson, shares that Vicki did great with treatment and has become a great advocate for sarcoma causes.
For the last few years, Vicki has ridden in a charity bicycle race, riding the 100 miles with the goal to raise money and prove that she's stronger than the disease. Dr. Henderson was part of the team. As a 5-year survivor of the disease, Vicki understands the importance that research makes for other sarcoma patients. She continues to ask leading experts in the field to speak at lectures and events to help create more awareness and bring more funding to the cause. Vicki's efforts were so appreciated that they honored her with naming of the annual event, which is now called the Cutone Lectureship.
As an inspiration and advocate for sarcoma – Vicki chose to turn this cancer diagnosis and resulting treatment into a way to help others. In fact, Vicki's motivation saying is, "They saved my live; if I could save another I will, even if only one person."
Megan Depalma
Orthopaedic Surgeon: Kristy L. Weber, MD, FAAOS
Hospital: Hospital of the University of Pennsylvania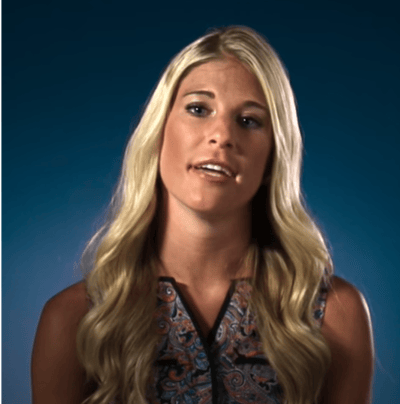 Megan was diagnosed with sarcoma at age 23. She was told by doctors that she would need to have her leg amputated. However, orthopaedic surgeon Kristy L. Weber, MD, FAAOS, at Penn Medicine was able to remove her tumor and reconstructive and microsurgery surgeon Stephen J. Kovach, III, MD, was able to reconstruct her leg. Today, she is able to walk, run, and live her life the way she wanted.

To view Megan's story, click here.
Update:

Early on after my diagnosis, I decided that I wasn't going to sacrifice my future because of cancer. Instead, I chose to focus on the life that I wanted when the journey was over. Everyday, I put one foot in front of the other knowing that it was a step closer to the milestones I always dreamed about. Since the last time you saw me, I have been busy enjoying the moments that pushed me through my treatment and recovery. Marrying my husband, watching my son experience the beach for the first time and giving back to Penn Medicine really feel like full circle moments and I know that without Dr. Weber and her team I wouldn't be where I am today.
From the moment Dr. Weber and I met, I knew that she was going to be more than a doctor. She has become my advocate, my cheerleader, the steadying voice on the other end of the phone when my mind wanders. She has become family. Together, with our Sarcoma committee, we have raised awareness and hundreds of thousands of dollars for Sarcoma Research at Penn Medicine. I feel so lucky every day that my path led me to Dr. Weber and Penn.
AAOS and MSTS Care About Sarcoma Patients
The AAOS Registry Program has developed the Musculoskeletal Tumor Registry (MsTR) with support from the MSTS, and this July, and throughout the year, the work that occurs through the collection, analysis, and dissemination of Registry data supports the improvement of sarcoma patient care.

For more information about this Registry, click here.

To make a donation, click here.
Be sure to leave a comment in the form below!