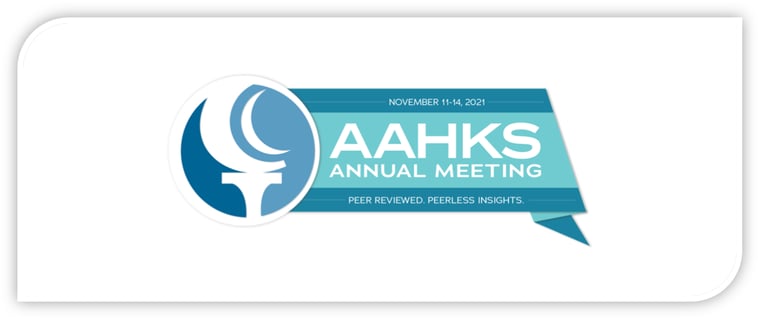 Pick Up Your Copy of the New AJRR Annual Report on November 12th
The American Association of Hip and Knee Surgeons (AAHKS) 2021 Annual Meeting is offering an outstanding educational program. Qualified attendees can earn a maximum of 18 AMA PRA category 1 Credits. The American Joint Replacement Registry (AJRR), the official registry of AAHKS, is looking forward to seeing you in Dallas, Texas on November 11-14, 2021.
The AAHKS Annual Meeting attracts orthopaedic surgeons specializing in hip and knee replacement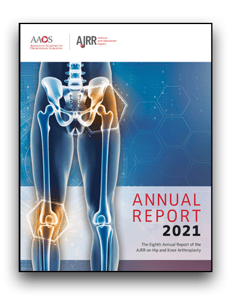 from around the world, fellows just starting their careers, and orthopaedic surgical team members. Engage with AJRR, part of the American Academy of Orthopaedic Surgeons (AAOS) Registry Program, during your visit! You can find us at the podium or visit us at the AAOS Registry Program exhibit (Table # 1, Trinity Foyer) to pick up your digital copy of the new AJRR 2021 Annual Report.
Map Your Meeting Itinerary
As you map your personal meeting itinerary, be sure to include these AJRR stops!


Revision Knee, Poster #209
Use of Cementless Metaphyseal Fixation in Revision Total Knee Arthroplasty in the United States
Authors: Carender CN, An Q, Tetreault MW, De A, Brown TS, Bedard NA.
The full poster will be available online only on Thursday, November 11, 2021 at 5:00 pm CT.


NEW! The AAHKS Research Course
Co-Chairs: Ran Schwarzkopf, MD, MSc and Bryan D. Springer, MD, FAAOS
November 12 (Friday) | 10:00 am - 2:30 pm CT | Chantilly Ballroom West

Podium Presentation, Paper #13
Lower Rates of Ceramic Femoral Head Use in Non-White Patients: A National Registry Study
Presenter: Adam A. Sassoon, MD, MS, FAAOS
Authors: Paisner ND, Upfill-Brown AM, De A, Sassoon AA, Donnelly PC.
November 13 (Saturday) | 7:24 am CT


AJRR Update
Presenter: Bryan D. Springer, MD, FAAOS
November 13 (Saturday) | 11:50 am – 11:55 am CT


Podium Presentation, Paper #38
Outcomes Vary Significantly Using a Tiered Approach to Define Success After Total Knee Arthroplasty
Presenter: Christopher N. Carender, MD
Authors: Carender CN, Glass NA, De A, Bozic KJ, Callaghan JJ, Bedard NA.
November 13 (Saturday) | 5:25 pm CT


AAHKS Learning Center/Exhibit Hall - AJRR Table #1, Trinity Foyer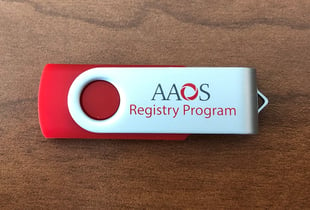 Beginning November 12, pick up your digital copy of the new AJRR 2021 Annual Report at Exhibit Table #1. Meet knowledgeable AAOS Registry Program staff who can discuss the Report's findings and answer other AJRR or Registry Program questions. View a RegistryInsights® demo with all the latest data enhancements, including the Surgeon Dashboards that are available to you as a free resource if your site is a Registry participant. And don't forget to take home an AJRR jump drive full of Registry resources!
Ask About the AAOS Registry Analytics Institute (RAI)
While visiting AJRR Table #1, ask about the AAOS Registry Analytics Institute®(RAI). The goal of the RAI is to provide a resource to the scientific community to further understand and improve orthopaedic and musculoskeletal care by making data analyses available. Investigators can submit hypotheses about information in AAOS registries. The RAI supports the AAOS mission while also providing clinicians and scientist-clinicians access to information beyond what is already published.
Analyses requests are open to investigators who have a well-defined hypothesis or question related to orthopaedics or musculoskeletal care. For this initiative, "investigators" are clinicians or clinician-scientists affiliated with a clinical practice or care setting. Representatives from industry, federal agencies, commercial entities, insurance companies, administrative databases, or hospital consortia are not eligible. Use the resources below to access applications and additional information.
Speak with our AAOS Registry Program staff at Table #1 about RAI opportunities
Cycle 3-2021 applications are being accepted through November 15, 2021. Learn more about the application and review process here.
See a list of papers and presentations based off RAI completed applications.
We are looking forward to seeing everyone in person at #AAHKS2021.
Be sure to leave a comment in the form below!