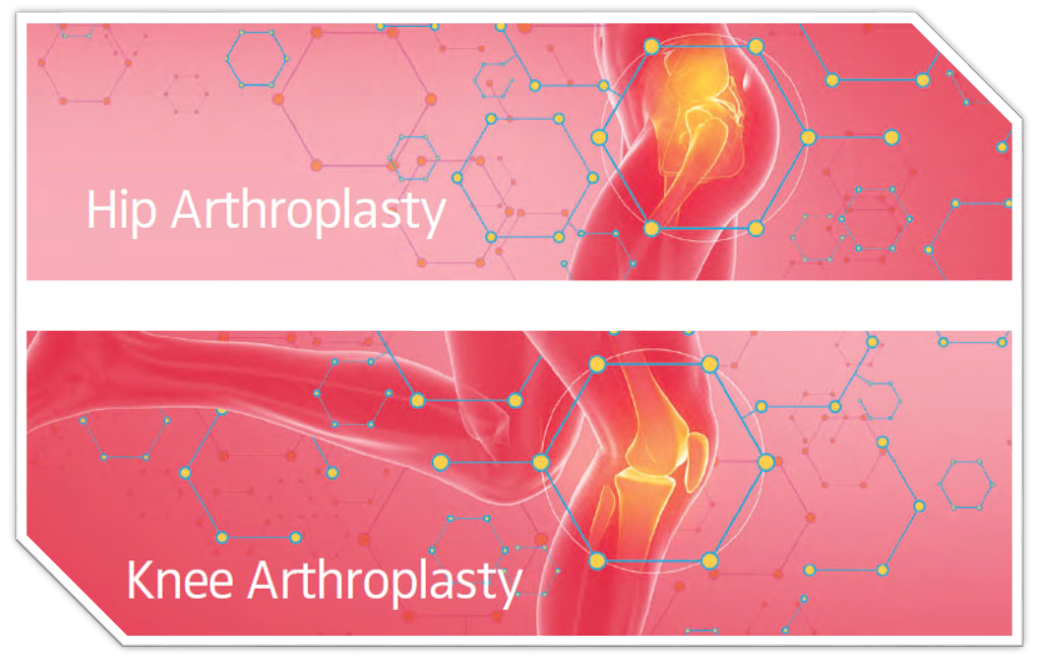 The American Joint Replacement Registry (AJRR), part of the American Academy of Orthopaedic Surgeons (AAOS) Registry Program, is the largest orthopaedic hip and knee registry in the world by annual procedure count. The AJRR 2018 Annual Report's at-a-glance summary of key insights related to total hip arthroplasty (THA) and total knee arthroplasty (TKA) is shared below. This summary format and content is a perennial favorite of our blog readership. We have tracked and reported these measures in previous years and some trends have emerged. The blog also discusses some of the Registry's new analytic capabilities and what they contribute to current and future Registry findings.
The Annual Report reflects data collected from 2012 through 2017. It includes data on 1,186,955 procedures from 1067 sites. There was a 38 percent increase in procedural volume compared to last year's Annual Report. In addition, the report includes data from the California State Registry, formerly the California Joint Replacement Registry (CJRR), now fully integrated into AJRR.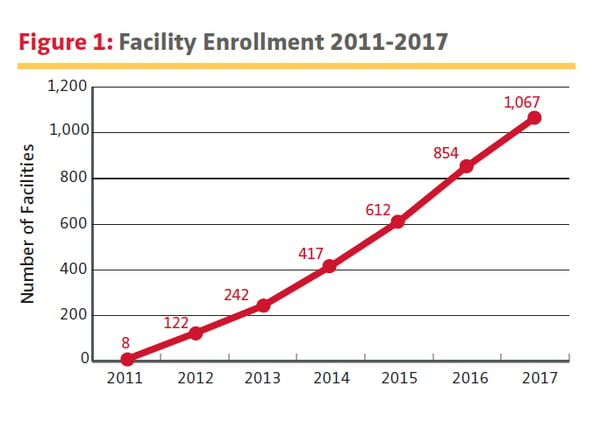 "2017 was an exciting year for both AAOS and AJRR. AJRR, the cornerstone registry of the AAOS Registry Program, had 1.4 million hip and knee procedures entered into its database as of August 2018 and it continues to grow. The Registry's new and ongoing analytic capabilities help us learn from that data every day," said Kevin J. Bozic, MD, MBA, chair of the AJRR Steering Committee.
At-a-Glance: Insights from AJRR Hip Data
Median number of primary procedures performed by AJRR surgeons is 8.
2017 revision burden is 4 percent, and seems to be decreasing.
In the 10,188 linked hip arthroplasty revisions where data were also available on the original primary THA, 53 percent occurred within the first three months post-surgery.
Partial Hip Replacement/Hemiarthroplasty makes up approximately 7.1 percent of all hip arthroplasty procedures.
THA for femoral neck fracture continues to grow; the majority utilize cementless stems and bipolar heads in all age groups.
Ceramic head use increases each year, with the 'tipping point' from an even distribution between ceramic and Cobalt Chrome (CoCr) heads occurring around age 68.
The use of dual mobility cups continues to increase in all primary hip arthroplasties and revision THA procedures.
Male patients predominate in younger age groups, but females represent the majority of procedures as the population ages.
At-a-Glance: Insights from AJRR Knee Data
Median number of primary procedures performed by AJRR surgeons is 23.
2017 revision burden is 5 percent and has remained constant.
The majority of early linked TKA revisions continue to be for infections.
Posterior-stabilized designs are the most common design used in primary TKA in AJRR, but ultra-congruent design use has increased steadily over time.
Mobile-bearing design use remains consistently around 7-9 percent of primary TKA, but its use in revision applications is higher.
Although highly cross-linked polyethylene is used in the majority of primary TKA procedures, its usage and that of conventional UHMWPE is decreasing while antioxidant polyethylene is growing.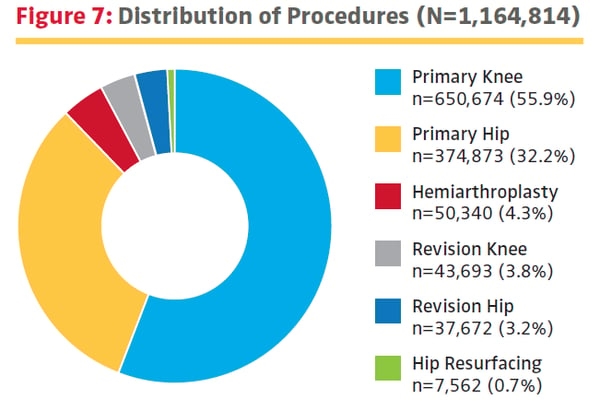 Beyond the Summary:
New Analytics Driven by Updated Data Specifications, Data Completeness, and Integration of Medicare Data
AJRR's 2018 Annual Report provides analytics beyond the procedural reporting found in the summary insights shared above. AJRR has been able to move forward with analysis of new data elements and data sources that support new sections in the 2018 Annual Report. New sections include an overview of data completeness, patient-reported outcome measures, and implant survivorship curves. These survivorship curves were made possible by the successful integration of Medicare claims data into AJRR, which provides a more complete picture of our patient population and their associated outcomes, including revision or primary procedures done at non-AJRR participating hospitals.
The current AJRR data specifications, updated in early 2018, include submission of Procedural and Post-operative data requirements. This robust data capture will enable Registry participants to conduct risk-adjusted case analysis. See Appendix A on page 50 of the AJRR 2018 Annual Report.
Future blogs will report on these new Annual Report sections, as well as related reporting disseminated through 2018 Annual Report Supplements planned for 2019.
Conclusion
The AAOS Registry Program participants from AJRR to our Shoulder & Elbow Registry (SER) will continue to benefit from the new analytic capabilities just described. Most importantly, new findings have the potential to improve patient care and outcomes going forward in each orthopaedic treatment area. As the depth of data being reported to the Registry continues to grow, so will the sophistication of information we present in future annual reports.
For information about the AAOS RegistryInsights platform, speak with a Registry Engagement Associate at (847) 292-0530 or Request A Demo today!
Be sure to leave a comment in the form below!