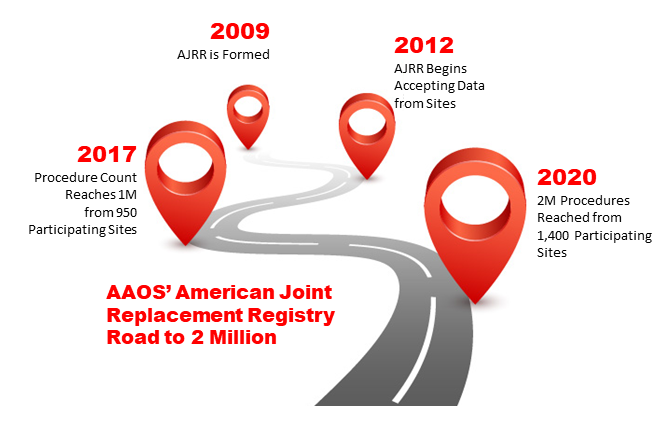 The article below will be featured in the August 2020 issue of AAOS Now, the American Academy of Orthopaedic Surgeons (AAOS) monthly news magazine.
The Academy's Registry Program celebrated a major marker of progress in June when the American Joint Replacement Registry (AJRR), the cornerstone of AAOS' Registry Program, reached and surpassed its two millionth hip and knee procedure with the input of data from Mayo Clinic in Rochester, Minn. Having tracked an additional one million procedures since 2017 to reach this milestone, the Registry Program gives orthopaedic surgeons and providers the most comprehensive picture to date of trends of hip and knee arthroplasty practice and outcomes in the United States.
"This is an incredible milestone for AJRR. We are thrilled to see so much enthusiasm from our participating sites to contribute actionable data to this important orthopaedic registry," said David G. Lewallen, MD, FAAOS, one of the founding leaders of AJRR and an orthopaedic surgeon at Mayo Clinic. "AJRR not only helps orthopaedic surgeons review their cases against a growing list of national statistics and analytics, but its interactive abilities help users filter data in new and meaningful ways, identifying important practice changes that can benefit millions of American patients going forward."
Daniel J. Berry, MD, FAAOS, founding leader and immediate past chair of the AAOS Registries Oversight Committee and an orthopaedic surgeon at Mayo Clinic, added, "AJRR is a powerful tool that is guiding the future of hip and knee joint replacements. As a participant in each of the AAOS registries, I find it exciting to see AJRR reach this milestone and fuel momentum that is helping improve orthopaedic outcomes in this country."
AJRR enhances and empowers the way orthopaedic surgeons, hospital systems, ambulatory surgery centers (ASCs), and private practices track joint replacements by allowing them to compare procedure performance on an individual, site, and system level through dashboards and reports offering access to national benchmarks and methods. The Registry supports patients by providing tools to surgeons so they can reduce complication and revision rates, maintaining surveillance for poorly performing implants, and tallying patient-reported outcomes (PROs). At present, AJRR represents nearly 1,400 U.S. medical institutions and more than 11,000 participating surgeons, with data coming from hospitals, ASCs, and private practice groups from all 50 states and the District of Columbia.
Since AJRR's launch in 2009 (with data collection beginning in 2012), the platform has elevated its scope of tracking capabilities. Most recently, AJRR and other AAOS registries have added the International Classification of Diseases, 10th revision code to monitor the impact of COVID-19 on patients undergoing future hip and knee joint replacement procedures. Tracking COVID-19 data will help analyze its impact on outcomes, trends of surgery based on the COVID-related pause in elective surgery, and the trends of PROs associated with delayed procedures.
AJRR is the world's largest national registry of hip and knee joint replacement data by annual procedural count. Since it rejoined AAOS in 2017, the following registries have been added to the Academy's registry portfolio: the Shoulder & Elbow Registry (SER); Musculoskeletal Tumor Registry; and American Spine Registry, a collaborative effort between the American Association of Neurological Surgeons and AAOS.
The data and reports that issue from all the registries provide a more complete picture of the patient population and their associated comorbidities and outcomes, including longitudinal outcomes of patients. AJRR has been publishing Annual Reports and Supplements from the data it has collected since 2013, and SER published its first Annual Report earlier this year. All Registry reports can be found online at www.aaos.org/registries/publications.
James I. Huddleston III, MD, FAAOS, AJRR Steering Committee vice-chair, commented, "Having been involved with registry development in the United States from the beginning and in the diligent effort to establish the importance of PROs as a quality indicator within the Registry, the now more than two million hip and joint procedures tracked can offer better orthopaedic care coordination, improved joint replacement outcomes, and, importantly, greater value for patients. Additionally, many of the data surgeons supply to the Registry can be reused toward other quality initiatives, especially those that include PROs."
Registry data and analysis enable AAOS Registry Program participating sites to practice evidence-based medicine. As a result, these healthcare sites can measure quality improvement and achieve better patient outcomes. Measurement is central not only to their internal quality initiatives but to successful engagement in a variety of external quality collaborations. Registry data can help meet a participating site's requirements for collaborative programs like quality certification programs, federal quality initiatives, insurer's distinction programs, and state collaboratives.
Bryan D. Springer, MD, FAAOS, AJRR Steering Committee chair, added, "AJRR is evidence of the Academy's commitment to giving surgeons the tools to help them make informed decisions about their cases. With increasing numbers of certification, accreditation, insurer, and quality programs looking to registry data as an important metric of care the importance of a credible and in-depth registry program becomes more evident each day."
Dr. Springer concluded, "We look forward to AJRR assisting in the growth and expansion of the AAOS Registry Program in the years to come and to gleaning new insights that can assist in delivering better patient outcomes."
For more information about AJRR, to speak with an AJRR Steering Committee member, or to join an AAOS Registry, visit www.aaos.org/registries.
Be sure to leave a comment in the form below!