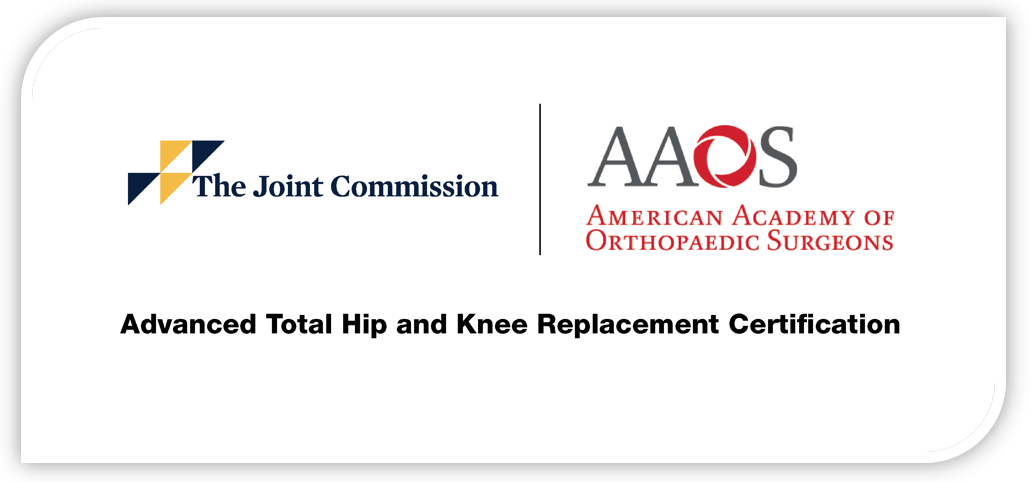 Since The Joint Commission and the American Academy of Orthopaedic Surgeons (AAOS) announced their Advanced Total Hip and Total Knee Replacement (THKR) collaboration in September, The Joint Commission has announced it will implement a new requirement for hospitals, critical access hospitals, and ambulatory surgery centers (ASCs). The new requirement appears in the program-specific eligibility criteria, as well as Performance Measurement (DSPM) Standard DSPM.4, Element of Performance (EP) 2b in the Comprehensive Certification Manual for Disease-Specific Care. This blog addresses an update to The Joint Commission requirements.
Upon publication of the new requirement, hospitals and ASCs began asking which registries would be sufficient to fulfill it. Based on questions from organizations about registries that meet the new THKR certification requirements, The Joint Commission researched registry options and convened discussions with the AAOS and other stakeholders.
Based on information collected, The Joint Commission has revised the program-specific requirement and DSPM.4, EP 2b to require that THKR-certified organizations participate in the American Joint Replacement Registry (AJRR). This requirement revision is designed to improve the safety and quality of services for patients electing to undergo total joint arthroplasty by selecting a robust and well established national registry to provide benchmarked performance data that can drive care processes improvements.
THKR Certification Revision: AJRR Becomes Sole Pathway for Registry Requirement
Effective July 1, 2019, the AJRR will become the sole pathway for meeting The Joint Commission's Advanced THKR Certification registry requirement. This requirement applies to all new customers applying for THKR certification after that date. Organizations that are certified in the advanced THKR program prior to July 1, 2019 and have entered into contracts with a registry other than AJRR will have until the end of their contract or January 1, 2020, whichever comes first, to transition to AJRR. For more information on the recent Joint Commission Advanced THKR Certification Program changes, please contact Debbie Holzer, MSN, RN, CRRN, NE-BC, clinical project director, Department of Standards and Survey Methods, The Joint Commission.
Start Submitting Data to AJRR

Advanced THKR certified sites will use the data collected from AJRR to analyze and improve orthopaedic processes. The AJRR, operated by AAOS, is the largest national registry of hip and knee joint replacement data based on annual procedure counts, with more than 1.4 million orthopaedic procedures in its database. AJRR participants receive near real-time feedback reports and summary statistics and the scale allows for meaningful national benchmarking and peer-to-peer comparisons, including custom reports. The AJRR also has processes in place to audit data quality and to ensure completeness of data submission. The Joint Commission believes that having all organizations join AJRR and work closely with AAOS to use the data from the Registry in improvement initiatives will provide opportunities to strengthen quality improvement activities for all THKR certified organizations.
AJRR participants must regularly submit complete procedural records to realize the full benefits of Registry participation. AJRR collects three types of data: procedural data, post-operative data, and patient-reported outcomes (PRO) data. The submission process involves extracting procedures from your organization's electronic health record (EHR) system, then submitting data through AJRR's secure file transfer site. AJRR converts and compiles data into its own aggregate format, and produces numerous options of comparative reports individualized by facility site, surgeon, procedure, implant, manufacturer, or other value-added criteria.
Current AJRR participant sites can learn more about the Onboarding Process that enables sites to begin submitting their data. Institutions that are not currently contracted with AJRR can learn more about participation here.
How You Can Achieve Advanced THKR Certification
To receive Advanced THKR Certification, organizations must successfully undergo a rigorous onsite review by Joint Commission experts to evaluate compliance with advanced disease-specific care standards and total hip and total knee replacement requirements, including orthopaedic consultation, and pre-operative, intraoperative, and post-surgical orthopaedic surgeon follow-up care.
Awarded for a two-year period, the THKR certification addresses the growing number of patients undergoing total hip or total knee replacement surgeries, and increases focus on clinical evidence-based patient care as it relates to pain management, quality of life issues, functional limitation in mobility and return to normal daily activities. It provides hospitals and ASCs performing orthopaedic procedures with a framework and pathway for improving patient outcomes by:
establishing a consistent approach to care, reducing variation and the risk of error;
supporting collaboration of teams across the continuum of care; and,
demonstrating commitment to a higher standard of clinical service.
Learn more about The Joint Commission's Advanced THKR Certification Program. Read more about the revised requirement in The Joint Commission Online Newsletter article.
For information about the AAOS RegistryInsights™ platform, speak with a Registry Engagement Associate at (847) 292-0530 or Request A Demo today!
Be sure to leave a comment in the form below!