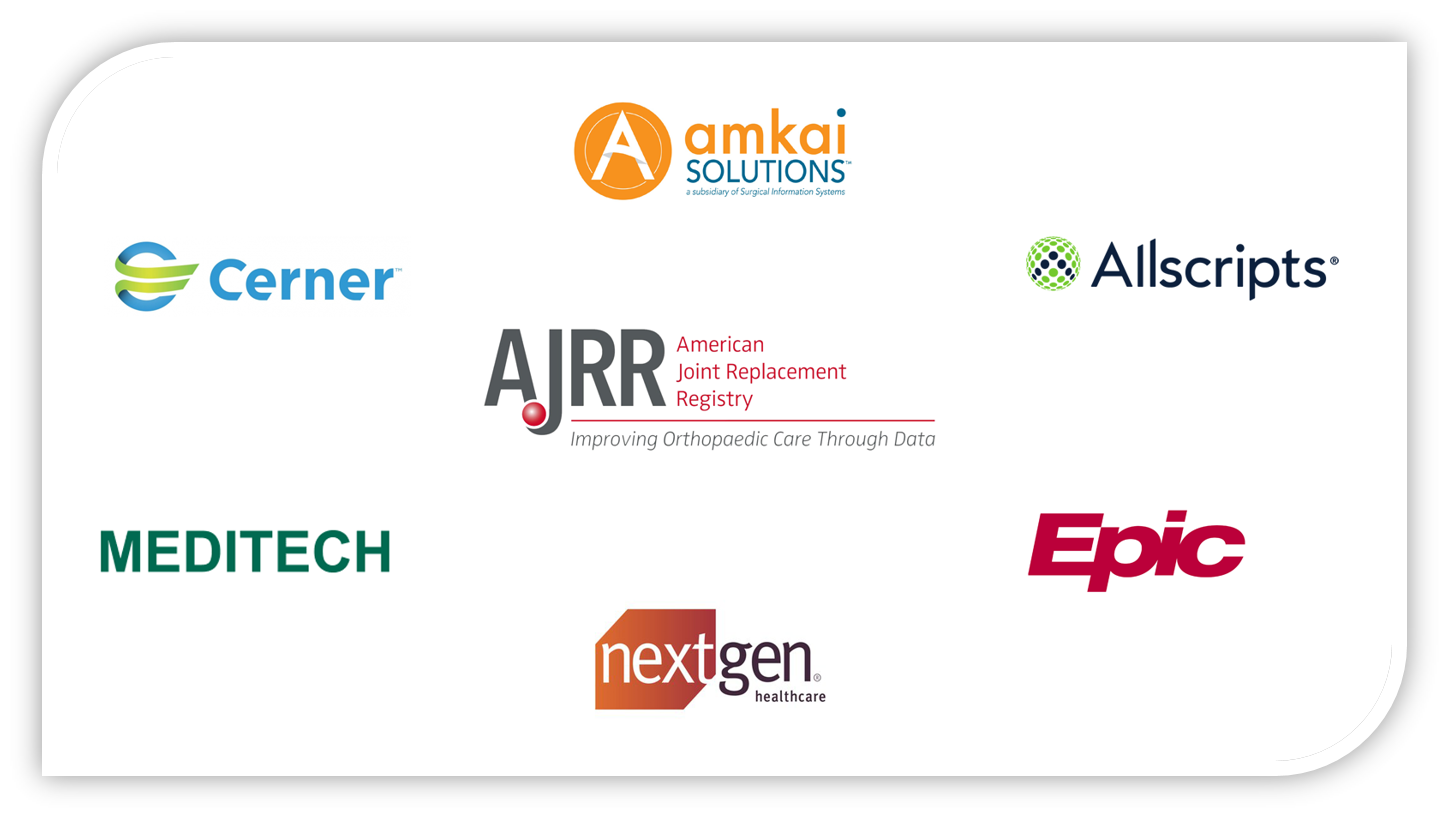 As the Electronic Health Record (EHR) becomes the primary interface for physicians and other health care workers, the American Joint Replacement Registry (AJRR) must increasingly work through EHRs for greater interoperability to be achieved.
Providers' EHR Challenges
Today many hospitals, ambulatory surgery centers, and clinicians' offices use more than one data capture system. In other words, more than one EHR within a single provider system may be utilized to support registries like AJRR. As a result, data capture can be awkward and time consuming for clinicians and their staff. While some of this can be overcome without interoperable systems, for example by uploads from these systems to AJRR of specific standard file formats, AJRR continues to pursue improvements aligned with the overall industry effort.
"Since its inception, AJRR has been committed to a multi-stakeholder governance model and to delivering value across the health care enterprise," said AAOS Director of Registries Nathan Glusenkamp. "Technology vendors play an important role in extracting, organizing, and transmitting data to AJRR on behalf of our participants. We are proud to work with participant hospitals and surgeons to leverage their existing investments in health information technology and their vendor capabilities, making data collection more comprehensive and reliable, without workflow disruption."
Providence St. Joseph Health is a system that has succeeded in implementing a single EHR (Epic Systems) throughout most of its 50 facilities and integrating it with a single orthopaedic registry (AJRR). Paul Duwelius, MD, an orthopaedic surgeon at Providence St. Vincent Hospital said, "One of the main reasons AJRR is successful is because of its alignment with and support from industry [EHR companies, AdvaMed, and others]." This alignment and compatibility helps ensure that the providers' EHR of choice will work smoothly with AJRR.
Evolution of the EHR Marketplace
While the EHR marketplace remains fragmented, some of the leading vendors include Cerner, Epic, Allscripts, Meditech, and for ambulatory settings, NextGen and AmkaiSolutions. The adoption of electronic records by providers was greatly aided by incentives supplied by the United States federal government. Continuing federal oversight of EHR standards is guided by the need to ensure benefits from the market-building impact of provider incentives. Those benefits must continue to serve the broader public purpose for which the American Recovery and Reinvestment Act (2009) was intended. Ideally, EHR standards will lay the groundwork for what the Institute of Medicine (IOM) has called the "learning health care system." The goal of such a system is a transformation in the way evidence is generated and used to improve health care. It is a system in which registries, with their trending and benchmarking capabilities, will play a pivotal role.
To consider criteria for selecting your EHR vendor, read more at HealthIT.gov.
A Practical Vision of Interoperability and Provider Next Steps
From an EHR and registry perspective, a vision of functional interoperability could be described as a standards-based solution that achieves the following set of requirements:
"The ability of any EHR to exchange valid and useful information with any registry, on behalf of any willing provider, at any time, in a manner that improves the efficiency of registry participation for the provider and the patient, and does not require significant customization to the EHR or the registry system." (Source: Bookshelf ID - NBK208625)
The health care industry has not yet achieved this vision. The successive development, testing, and adoption of open-standard building blocks (HITSP TP50, C76 an IHE RFD, CRD, and DSC) — which improve functional interoperability and move us incrementally toward a solution — is a bridging strategy that provides benefits to providers, patients, EHR vendors, and registries.
As a provider today, the next steps that enable your organization to thrive in an increasingly interoperable world include:
Choosing one EHR solution with the features/benefits needed across your entire organization. If you have multiple EHRs already in use, moving to your single choice will be a phased process.
Choosing a registry that has the data elements, analytical abilities, and security you need and is also highly compatible with your EHR of choice
Ensuring that you are properly staffed for data capture and analysis
Engaging with other providers through a vibrant registry user group network that focuses on best practices
Keeping current on all legal and regulatory requirements for the protection of patient privacy
Attributions:
Interfacing Registries With Electronic Health Records, Bookshelf ID: NBK208625.
For information about the AJRR RegistryInsights™ platform, speak with a Business Development Representative at (847) 292-0530 or Request A Demo today!
Be sure to leave a comment in the form below!