Catch up on Our Most Popular Content During the Past 12 Months!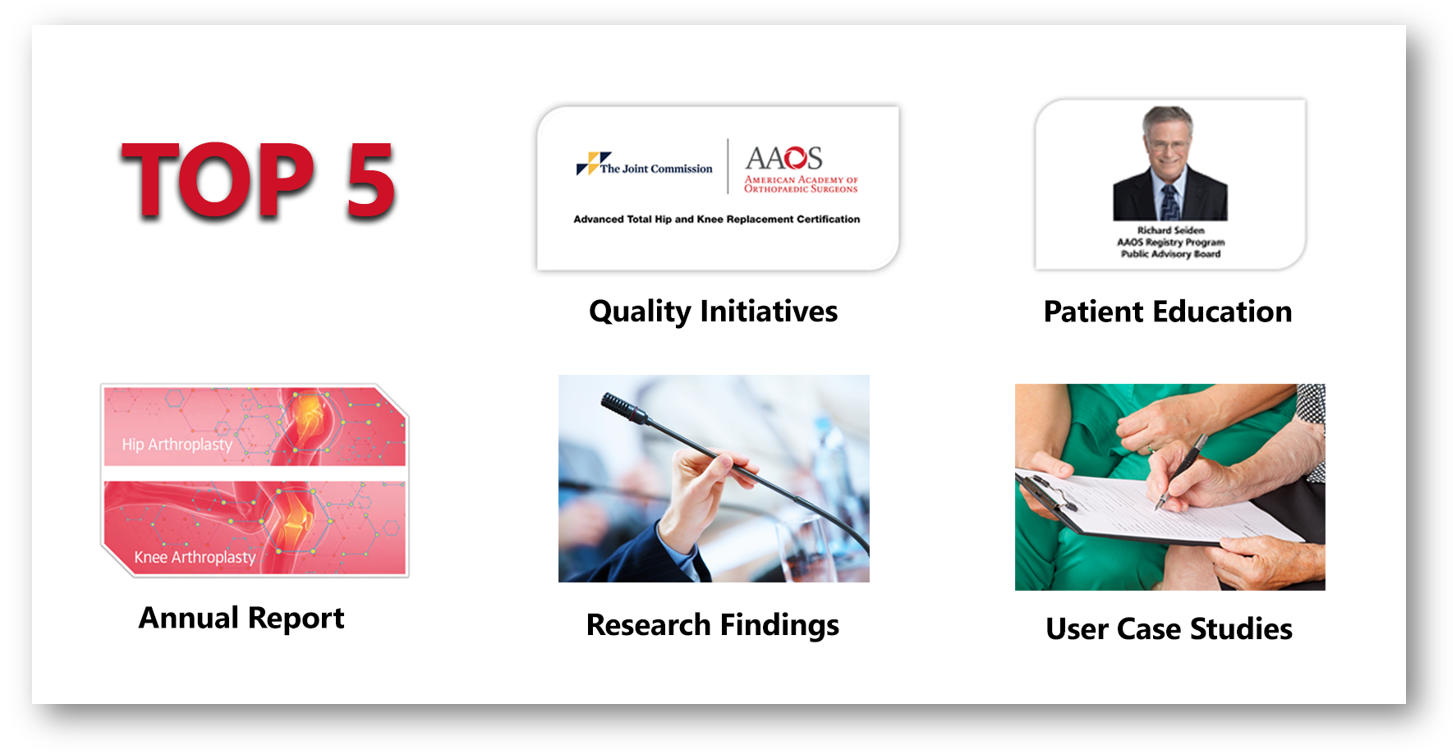 Every rolling twelve-month period, in this case June 2018 – June 2019, the AAOS Registry Program Blog analyzes reader response and identifies our most engaging content. The selection criteria include number of views, submitted comments, and reader follow-up requests.
We would like to take the opportunity to thank our readers for their participation, contributions, and feedback. Approximately 5,000 health care professionals receive this blog, many through a free email subscription. Others access it though our website, via a keyword search on the Internet, or on Twitter. Our audience consists of Registry Program participants/subscribers, other Registry stakeholders, and institutions that have indicated an interest in joining the AAOS Registry Program.
Top 5 Blogs
Blog content is chosen to address diversified, sometimes controversial, clinical and Registry issues/opportunities. Some of the most engaging topics deal with translating Registry findings into clinical practice, patient guest blogs, and Registry participant case studies. In case you've missed any of our Top 5 Blogs, as identified by the actions of your peers, access them below. You can also share past blogs that may interest your colleagues with the social media icons below the title of each blog post.
AAOS Registry Program top 5 blogs:
Reader Comments and Requests
Typical reader requests are for clarifications, links, or PDFs of "how-to" material included in a blog post. The blog's recent case study "Nurse Leadership at the University of Maryland Shore Regional Health Drives PRO Program Efforts" generated requests like these. Reader comments, on the other hand, often encourage additional coverage of a specific topic, as occurred with "The AJRR 2018 Annual Report: THA/TKA Surgical Insights Summary & Beyond" and other blogs that source findings from AJRR's Annual Report.
"SER Launches Elbow Arthroplasty & Rotator Cuff Modules" (5/15/2019), missed the Top 5, but received multiple comments indicating that readers were looking for more information on this topic. Connecting those readers with answers to their questions help contribute to the Registry Program's continued enrollments. All reader comments are important to guiding our writing staff's choice of future topics, therefore we welcome your comments and suggestions.
For information about the AAOS RegistryInsights platform, speak with a Registry Engagement Associate at (847) 292-0530 or Request A Demo today!
Be sure to leave a comment in the form below!